Finish of the First Tour de France
Maurice Garin won the first Tour de France, on July 19th, 1903, by a margin of almost three hours.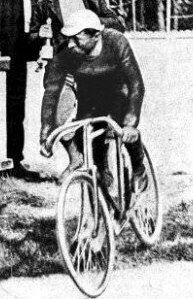 Products of the bicycling craze of the 1890s in France included an army regiment mounted on bicycles and numerous flourishing bicycle-connected businesses as well as a public appetite for races. Besides track events in 'velodromes', there were long-distance road races, from Paris to Vienna and St Petersburg, for instance, and from Paris to Rome. The Tour de France, which began as a newspaper circulation-booster, was an unexpected by-product of the Dreyfus Affair. In 1899 the bicycle newspaper Le Vélo , which sold 80,000 copies a day, ran a pro-Dreyfus piece that caused a fierce falling out with a major advertiser, the bicycle manufacturer Comte Dion. With other manufacturers, including Clément and Michelin, Dion started a rival sports sheet called L'Auto. The editor was Henri Desgranges, winner of the world one-hour record in 1893. When one of his assistants suggested a race round France, Desgranges saw the possibilities.
The first race in 1903 took nineteen days in six formidable stages, from Paris to Lyon, Marseille, Toulouse, Bordeaux, Nantes and back to Paris. The stages varied in length from 274km (170 miles) to as much as 467km (290 miles), with a total distance of just over 2400km (1,500 miles ). A parade of cars, festooned with advertising and throwing free samples to spectators, travelled two hours ahead of the cyclists. Of sixty competitors from France, Belgium, Germany and Switzerland, including professional team riders and freelance amateurs, twenty-one finished the gruelling course and the race was won by a Frenchman, Maurice Garin, 'the Little Chimney-Sweep', by a margin of close to three hours. The last finisher came in two days behind.
Garin also won the second race in 1904, but he and the next three finishers were all disqualified for cheating. The early races were notorious for mayhem. Riders strewed broken glass and nails in the road to cause punctures behind them, competitors were given drinks that made them sick, many got surreptitious tows from cars or motorbikes, some were held up and delayed by hired thugs. The excitement was intense and L'Auto's circulation more than doubled. Le Vélo went bankrupt.