Forget Tony Blair or Margaret Thatcher, says Klaus Larres; Winston Churchill was the supreme prevaricator when it came to giving up power.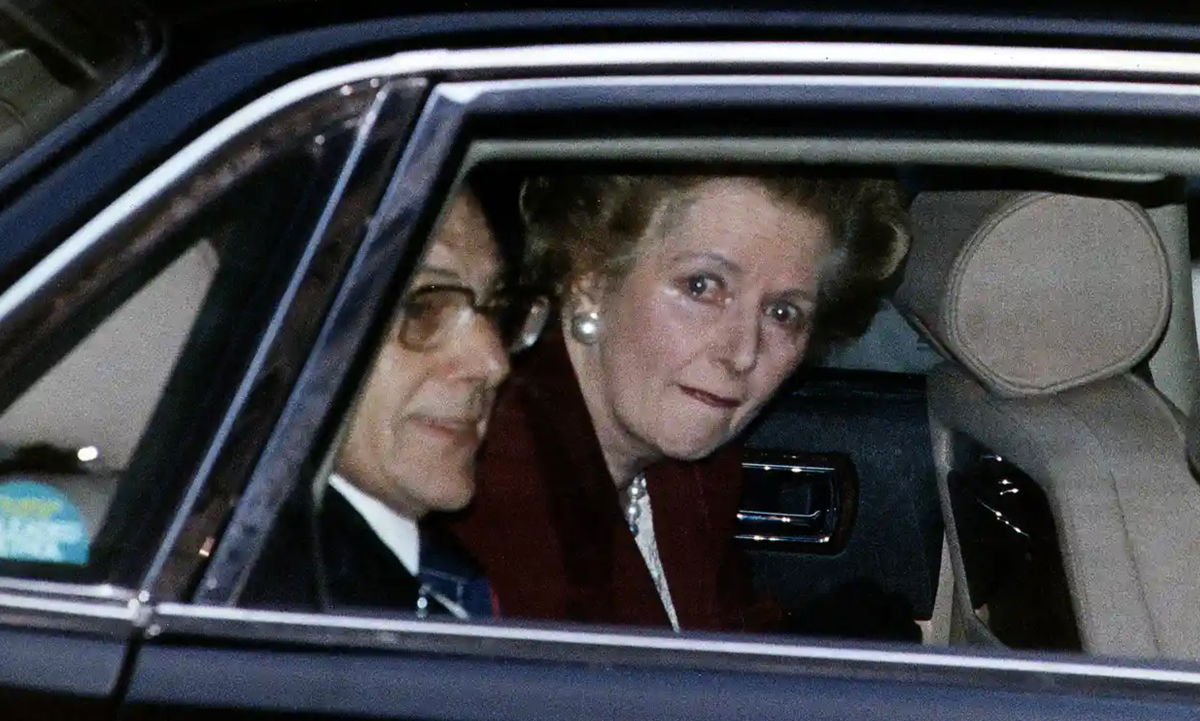 Ever since Tony Blair, in 2004, became a lame-duck prime minister, by announcing that he would not seek a fourth term in office and would give his successor plenty of time to settle in, speculation about the date of his retirement has dominated the headlines. A dramatic crisis meeting with Gordon Brown, and a rhetorically clever speech at the Labour party conference in September, may have saved Blair from being pushed out by his own people for the time being, but the saga is bound to continue. Blair seems to have overstayed his welcome, both with the British public at large and with his own party. Yet he wants to stay in office and fulfil his mission as he sees it; it's hard to give up power voluntarily.
Blair has become a prime example of the difficulty leaders have in relinquishing office and retiring gracefully at the height of their reputation and influence. In recent British history, only Harold Wilson succeeded in retiring at a time of his own choosing, announcing his resignation as prime minister and leader of the Labour party on March 16th, 1976, less than two years after his election victory of October 1974. By that time he was probably already aware of the insidious onset of Alzheimer's disease. 
Most British prime ministers since the Second World War have left office abruptly, albeit for a variety of reasons. Several were given no choice but to resign after failing to win the endorsement of the electorate. Alec Douglas-Home, Ted Heath, Jim Callaghan and John Major suffered this fate and all lost the leadership of their party soon afterwards. Clement Attlee, however, remained Labour leader until December 1955 despite losing power in the general election of October 1951. After the ill-fated Suez invasion of late 1956 there was very little Anthony Eden could do to continue as prime minister and leader of the Conservative party; the electorate, his own party and not least the American government regarded his continuation in office as intolerable. Harold Macmillan resigned in a fit of depression on October 18th, 1963, in the aftermath of the damaging Profumo affair that had seen his popularity reach rock-bottom, and in the mistaken belief that he was suffering from a fatal illness – a decision he would regret thereafter. 
Not for turning out
Two of Britain's foremost twentieth-century prime ministers, Winston Churchill and Margaret Thatcher, managed to hang on to power for a number of years despite clear signs that their own party and the country at large were demanding a change of leadership. Both used prevaricating tactics not dissimilar to those that Tony Blair has begun to employ.
A groundswell of opinion against Thatcher first emerged within the parliamentary Conservative party in 1988 following a speech she gave at Bruges opposing closer economic ties with Europe. The planned introduction of the highly unpopular poll tax added to her difficulties, but she survived a leadership challenge from a 'stalking horse' opponent, Anthony Meyer, in November 1989 – the 'Iron Lady' was not a leader who could easily be pushed aside. A year later, in October 1990, Geoffrey Howe abruptly resigned as deputy prime minister and Leader of the House in protest against her anti-European policies. His devastatingly effective resignation speech undermined Thatcher's remaining credibility within her party, and in November she faced another leadership challenge, this time from former defence secretary Michael Heseltine. She received far fewer votes than expected and was persuaded, with great difficulty, not to contest the second round of voting. After almost two years, her fight to hang on to power had come to an end.
No opposition
Winston Churchill did even better. He managed to lead the Conservative party for ten more years after the first calls for his resignation were heard in the wake of his defeat in the general election of 1945; a unique achievement. After the British electorate voted overwhelmingly for Clement Attlee's Labour party in 1945, Churchill sank into a deep depression and sought refuge by socializing with friends and painting landscapes in the south of France and elsewhere in the Mediterranean. He displayed no interest in being an active leader of the opposition. Anthony Eden, his heir apparent, and Rab Butler effectively ran the Conservative party. Calls for Churchill's retirement could soon be heard from within the parliamentary party but the great man had no intention of listening too carefully. But by early 1946 his spirits had revived and after a serious telling-off from the 1922 parliamentary committee of Conservative backbenchers, he began to show somewhat greater interest in performing the role of the leader of the opposition. He appeared more frequently in the House of Commons, but most of the hard day-to-day work was still done by Eden and Butler, respectively Foreign Secretary and Chancellor of the Exchequer. 
Churchill concentrated his efforts on maintaining his international reputation and prestige. He made several dramatic speeches that caught world attention. In Zurich in September 1946 he spoke of the necessity to create a United States of Europe based on a partnership between France and Germany. In August 1950, before the new Council of Europe in Strasbourg, he called for the creation of a European army, including a German contingent. Not least, in Fulton, Missouri, in March 1946 he observed that an iron curtain had descended on Europe and divided the old continent. According to Khrushchev's memoirs, the men in the Kremlin regarded Churchill's so-called 'iron curtain speech' as the opening shot in the Cold War. After all, it was given in the presence of US President Truman, who appeared to approve of its content. 
While Churchill basked in the limelight and enjoyed the tremendous attention heaped on him abroad, many in the Conservative party remained dissatisfied with his unwillingness to deal with domestic British politics and lead the opposition effectively. A growing number of Conservative MPs began to view Churchill as a liability rather than an electoral asset. Anthony Eden appears to have participated in intrigues in early 1946 to remove Churchill from power, but he was not involved in similar and equally unsuccessful mini revolts in 1947 and 1949.
Churchill certainly resented the pressure put on him to consider retirement. After the 1945 defeat he was obsessed with the idea of once more regaining power – and this time through the votes of the British electorate. Although some parliamentary colleagues might blame him for the defeat, his following within the rank-and-file of the party, and more importantly among the British people, was still huge; he was almost worshipped. Eden and other leading Tory politicians were thus in no position to drive the leader of the opposition from office without his consent; they even hushed up his first mild stroke in late August 1949. Unbeknown to himself and those around him, Churchill was suffering from atherosclerotic vascular disease; a progressive narrowing and hardening of the arteries supplying the brain with blood. However, on this occasion Churchill recovered very quickly. In mid-November Averell Harriman, Truman's secretary of commerce, was surprised 'to find him in such good health and vigor', and when in conversation Churchill recalled previous meetings that had taken place as long ago as 1927 and 1929, he marvelled at his 'extraordinary memory'. 
A liability?
Churchill was not to be deterred from remaining as leader by party political considerations and claims that he had become a liability. He refused to consider retirement. From time to time he would mention the issue to Eden and others in the party but this was largely for tactical reasons: he wished to string Eden along and avoid facing the retirement issue directly. His view remained the same as the one he expressed in April 1946:  'All my most intimate friends recommend retirement and I will fight the lot till the bitter end and challenge them to sack me.'
Churchill even managed to survive, though barely, when the Conservatives narrowly lost the general election of February 1950. It probably was the slim margin of Attlee's victory and Churchill's prestige as a global statesman and war leader that allowed him to stay as Tory leader for the time being. A year and a half later he was fortunate to win the general election, sneaking back into power with a majority of seventeen seats, although the Conservatives had actually received 231,000 fewer votes than the governing Labour party. But due to the vagaries of the British electoral system, this did not matter. On October 25th, 1951, Churchill went to the palace to shake hands with the King and returned to Downing Street as the new British prime minister.
It almost immediately became clear that Churchill had no intention of dealing with too many policy issues. He paid little attention to domestic British politics and brought forward very few new policy initiatives. To the surprise of many, he also lost all interest in dealing with the question of whether or not Britain should become part of a more integrated Europe – for example, failing to reverse the decision of the Labour party that the country should not participate in the Schuman plan for a European Coal and Steel Community. The new prime minister also showed no enthusiasm for the French suggestion for an integrated European army, regarding such an artificial body as a 'sludgy armalgam' [sic] that was bound to prove militarily useless, in contradiction to the view he had expressed at Strasbourg less than two years before when he had called himself for the creation of a continental European army.
Churchill's age had begun to show (he was seventy-seven when he took office). Early in 1952 he had a period of 'temporary confusion in his speech' (aphasia), and suffered a second stroke in July, after which his health deteriorated more rapidly. Thus, during his only peacetime government, Churchill was to a large extent occupied with his stubborn fight for political and physical survival. He was clearly running out of energy.
His main focus was on foreign policy issues, and within this area he concentrated, a little, on the question of Britain's continued role in the Middle East and, above all, on the Cold War. The Soviet Union had exploded its first atomic bomb in 1949, raising for Churchill the terrible spectre of a third world war that would undoubtedly lead to the utter destruction of all civilization. During his last years as prime minister he was on a mission to bring about a 'Big Three' summit meeting of the British prime minister, the American president and the leader of the Soviet Union (Churchill grudgingly agreed that the French might have to be invited as well), as a means of negotiating to overcome the Cold War, or at least substantially improving East–West tensions. 
Death of Stalin
Following Stalin's sudden death on March 5th, 1953, Churchill saw an opportunity to convene a summit meeting with the new Soviet leadership. Much to the consternation of the Foreign Office, he was even prepared to agree to the reunification of Germany on a neutral basis if this would bring about the end of the Cold War and diminish the likelihood of a nuclear conflict. 
Churchill grandly announced his proposal in a speech in the House of Commons in May 1953. The leaders of the Western world – in particular US President Eisenhower and West German Chancellor Konrad Adenauer – were furious. It appeared to undermine the entire concept of how the free world was to fight the Cold War. First, West Germany had to be fully integrated into the Western world and only subsequently could reunification and an end to the Cold War be considered, although everyone agreed that by then it would be much too late to bring this about.
In June 1953, after giving a dinner for Italian President Gaspieri in Downing Street, the seventy-eight-year-old Churchill suffered a severe stroke. Its effect only became obvious the next day. In the morning he was able to chair a Cabinet meeting but by the afternoon he was partially paralysed and could hardly talk. It was officially announced that he was suffering from exhaustion and had been advised to rest. The severity of his illness was covered up and, for the next four months, John Colville, his private secretary, and a few other trusted advisers essentially ran the country. Eden was undergoing a serious operation at this time; had he been well, it is likely that Churchill would have been pushed into retirement. As very few people in the Conservative party wished to see Rab Butler succeed, Churchill was able to remain in office. Indeed, he made a surprisingly quick recovery and was soon demanding to read Cabinet memos and telegrams. But he did not return to work until October. In the meantime Eisenhower and Adenauer, as well as the Foreign Office, had used the opportunity to successfully undermine Churchill's summit plans with the new leadership in Moscow. An uprising in East Germany in June 1953, brutally suppressed by the Soviet Union, supported their arguments that negotiations with Moscow were impossible.
Throughout 1954 Churchill came under increasing pressure from his Cabinet colleagues to resign. At one stage Harold Macmillan even talked to Churchill's wife, Clementine, in a bid to get her to persuade Churchill to retire. But Churchill insisted on remaining in power. He wished to fulfil his mission to negotiate with the Soviet Union to overcome the Cold War. On the way back from a visit to Washington in mid-1954, Churchill even sent a telegram to Soviet foreign minister Molotov asking that he be invited on a 'solitary pilgrimage' to the Soviet capital to commence negotiations. President Eisenhower was outraged, as was Churchill's Cabinet. Many members threatened resignation, complaining that the old man was carried away by his mission and no longer appeared fit to be prime minister. The break-up of the Cabinet was only avoided when the Soviet government made it clear that they were not interested in Churchill's proposal. They didn't trust his motives.
It was only in early 1955, after the downfall of new Soviet leader Malenkov and a further deterioration of Churchill's health, that he gave up. He announced that he would retire in April 1955. Yet in March he was tempted to postpone his retirement once again when he heard that Eisenhower intended to visit Paris and that this might be an opportunity to convene 'Big Three' negotiations. Only when his aides wrote to Eisenhower in desperation and the President decided not to travel to Paris after all, did Churchill relent. 
On April 5th, 1955, almost ten years after losing the election of 1945 and facing down the first calls for his resignation, Churchill finally retired as Conservative party leader and prime minister. It is unlikely that Tony Blair will manage to prolong his retirement as long as Churchill did. But he may yet have second thoughts when the last few months and weeks of his premiership approach.
Klaus Larres is Professor in History and International Affairs at the University of Ulster, and the author of Churchill's Cold War: The Politics of Personal Diplomacy (Yale University Press, 2002).