Emily Wilding Davison: The Good Terrorist
Martin Pugh reconsiders the motives and impact of the suffragette Emily Wilding Davison.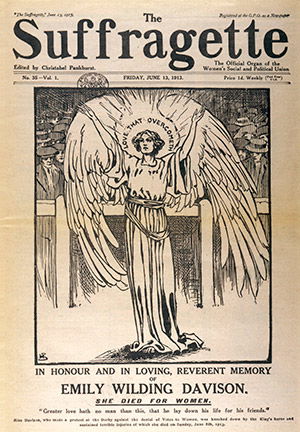 'The Suffragette' of June 1913, dedicated to the memory of Emily Davison
A century after Emily Wilding Davison's dramatic death at the Epsom Derby in June 1913 aspects of this incident remain uncertain. Did she intend to commit suicide? Was she acting as part of a wider suffragette plan? And what impact did her dramatic intervention have on the wider cause?
Until 1906 Davison had worked as a teacher and governess, but at that point, provoked by the continual prevarication of the politicians over women's enfranchisement, she adopted the militant tactics of the Women's Social and Political Union (WSPU). However, though the fast-developing campaign offered plenty of scope for a brave, imaginative woman, she appears to have operated as a freelance suffragette. Though she participated in several well-known events, her actions from 1909 onwards seem increasingly to have been at her own initiative. This made sense in view of police efforts to prevent suffragette sallies, the fewer people who knew what was intended the better. But there was a downside.