The Edwardian Social Network
Guy Atkins explains what made the postcard such an extraordinary and successful phenomenon of the early 20th century and draws parallels with today's social media.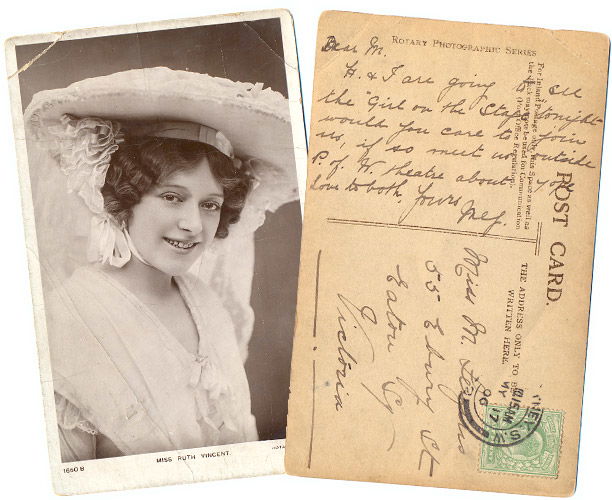 Collectors tend to have their favourite pieces. Though slightly faded, one of mine is a postcard postmarked May 1906 of the actress Ruth Vincent (pictured above). I bought it ten years ago from a collectors' market in central London. More than any other I've come across, the card instantly opens up the extraordinary postcard culture of Edwardian Britain.
The market is still going strong. Every Saturday, by Embankment Tube station, dealers set out 30 or so tables of coins, stamps and other ephemera. Postcards are filed in heavy-duty cardboard boxes, ordered according to the images on their fronts. The Vincent postcard would have been behind a divider marked 'Actresses' or 'Theatre'. However, as charming as the photograph is, it is the message on the back that makes the card special:
Dear M.
H & I are going to see the 'Girl on the Stage' tonight. Would you care to join us, if so meet us outside P. of W. theatre about 7 o/c. Love to both.
Yours Meg.
Tonight. With one word, Meg's postcard becomes a completely foreign object to the 21st-century eye. Sending a postcard today signals not caring about the timeliness of a message. Back then speed was its essence. With the telephone not yet widely available and with up to six deliveries a day, postcards helped keep Britain on the move. M. should have received Meg's postcard in good time to be at the Prince of Wales Theatre for 7 o'clock. It is even possible, before setting off for the West End, that Meg received a card in reply.