Edward Aetheling: Anglo-Saxon England's Last Hope
Gabriel Ronay traces the story of the 'forgotten' rightful heir to the throne of England – who could, perhaps, have saved Anglo-Saxon England from a Norman invasion in 1066.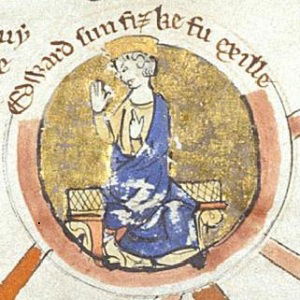 1066 is probably the most famous date in English history, yet it may come as a surprise to laymen and historians alike that, but for the 'murder most foul' of an exiled Anglo-Saxon prince, the Norman conquest might not have taken place at all.
In the 1050s, the ageing and childless Edward the Confessor saw the succession issue divide the kingdom of Wessex. Earl Godwin's son, Harold, and William of Normandy, the King's kinsman, were the contenders for the throne. While Harold had the full backing of the influential Saxon faction, William had a formidable counter-claim, which cast a giant shadow over England.
The linchpin of the Confessor's compromise plan, intended to deny the crown to both and thus avert civil war and a Norman invasion, was Edward Aetheling. He was the son of the King's half-brother, the legendary Edmund Ironside, murdered at the instigation of Canute the Dane in 1016, after the Danish takeover. Edward and his elder brother Edmund were removed from England soon after their father's murder, and the rightful heirs to the Anglo-Saxon throne were eventually presumed dead and forgotten.
But in the 1050s, the Confessor learnt with joy that his nephew was alive and well in distant Hungary. Being of royal blood by direct male descent, yet untainted by the factional interests of the two main political forces in the realm, he was in the King's view the ideal compromise candidate for the throne who could avert a Norman intervention feared by the country.