John Aubrey, best known for his concise and incisive pen portraits of his 17th-century contemporaries, left no diary of his own. Ruth Scurr set herself the challenge of imagining one from the remnants of his life.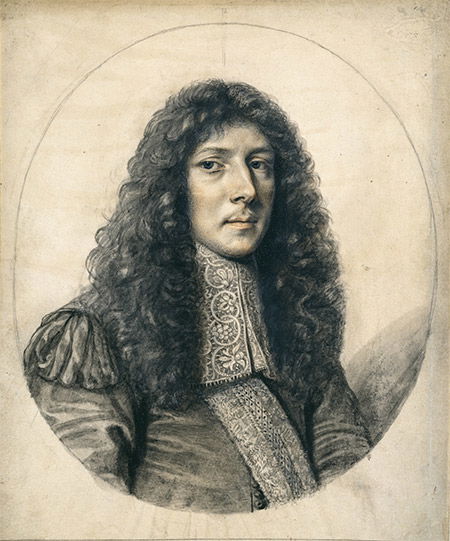 Sole surviving portrait: John Aubrey, 1666. Ashmolean Museum, Oxford / Bridgeman Images
John Aubrey (1626-97), the author of Brief Lives, a collection of short, informal biographies on luminaries such as Shakespeare, John Dee and Francis Bacon, saw himself more as collector than writer. He lived through times of great turmoil: he was 22 when Charles I was executed; he saw Oliver Cromwell's rise to power as Lord Protector of the Commonwealth of England and his son Richard Cromwell's brief succession; he experienced the Restoration of Charles II, the short reign of James II and the Glorious Revolution of 1688 that brought William of Orange and his wife Mary (daughter of James II) to the throne. Aubrey died in 1697, ten years before England and Scotland joined their parliaments to create the United Kingdom of Great Britain.
From an early age he saw his England slipping away and committed himself to preserving for posterity what remained of it, in stories, books, monuments and buildings. He compiled natural and antiquarian remarks in notebooks, or on scraps of paper, cross-referenced, revised and corrected over time. He was concerned with accuracy like a scrupulous modern investigative journalist, so his notes are full of gaps and question marks where it has not been possible to remember or find a particular piece of information.