Death of Robert O'Hara Burke
The Australian pioneer Robert O'Hara Burke died of starvation on June 30th, 1861.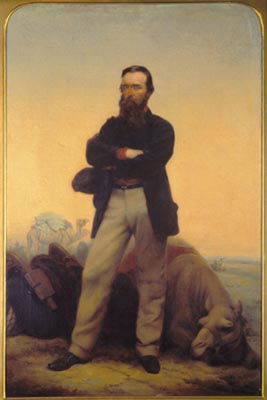 The leader of Australia's most famous expedition of exploration was born in 1820 in County Galway, Ireland into a family of Protestant gentry and trained in England for the army. Of an adventurous disposition, he took a commission in the Austrian army's cavalry for a time before joining the Irish police. In 1853 he emigrated to Australia and made his way up in the police force of Victoria. In 1860 he was given command of a government-backed expedition formed to prove or disprove the existence of the supposed Inland Sea. His second-in-command was a surveyor called William Wills.
Camels were specially imported from India for the Burke and Wills expedition, which added to the excitement when the party set out from Melbourne in August. Burke had great charm, but neither the experience nor the temperament to make a good leader. A diminished party reached the Cooper's Creek waterholes in Queensland in November and from there Burke, Wills and two others made a dash north to the Gulf of Carpentaria, which would give them fame as the first white men to cross the continent. They had left their stores at Cooper's Creek in the charge of a man named William Brahé to await their return, but when the three survivors regained Cooper's Creek in April they found to their horror that he had given them up and left earlier that same day, leaving only a tiny quantity of provisions.
Wills wanted to follow Brahé, but Burke decided to make for a sheep station to the south, which he thought was much closer than it really was. It was a critical mistake. Shortage of water forced them back to Cooper's Creek where, crippled with exhaustion, they were unable to fend for themselves. Although friendly aboriginals occasionally gave them food, Burke and Wills both died of starvation. John King, the sole survivor, was rescued by an expedition in September. What was left of Burke and Wills was buried with honour in Melbourne the following January.