Death of John Cowper Powys
One of the strangest literary figures of his time died on June 17th, 1963.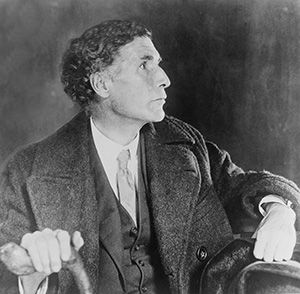 Author of A Glastonbury Romance (1932) and Porius (1951), novelist, poet, philosopher, translator of Rabelais and Dostoevsky, John Powys was one of the strangest literary figures of his time. Readers often found his work largely incomprehensible, yet strangely compelling. He himself had no doubt of his stature and was astonished not to have won the Nobel Prize for literature. He believed that the dead of past centuries communicated with him and that he had experienced the events described in his historical novels. In a letter to a friend in the 1950s he said he was 'really scared of thinking of myself or facing myself' and that his novels were attempts to escape from his own personality into those of his characters.
Born in 1872, the eldest of 11 children of a family that traced itself back to Welsh Borders country gentry, John was descended on his mother's side from the poet William Cowper. Two of his younger brothers, Theodore and Llewellyn, also became well-known writers. He married Margaret Lyon in 1896, but they were not happy and in the 1920s in the United States he met Phyllis Plater, his love and his muse for the rest of his life. From 1935 they lived at Corwen in the mountains of North Wales, where he could satisfy his lifelong mystical delight in landscape and country walking.
John's wife Margaret died in 1947 and his only child, Littleton, in 1954. In 1955 John and Phyllis moved a few miles to a tiny house in the slate-quarrying town of Blaenau Ffestiniog, high in the mountains of Snowdonia. John was living mainly on raw eggs and two bottles of milk a day. He worked on what he called a Freudian paraphrase of the Iliad and various short works that Richard Perceval Graves, the Powys brothers' biographer, called bizarre fantasies. He grew gradually weaker, stopped writing and died quietly in the local hospital, aged 90. He was cremated and his ashes were scattered in the sea at Chesil Beach in Dorset.