Death of Dorothy Wordsworth
Dorothy Wordsworth died on January 25th, 1855, aged eighty-four.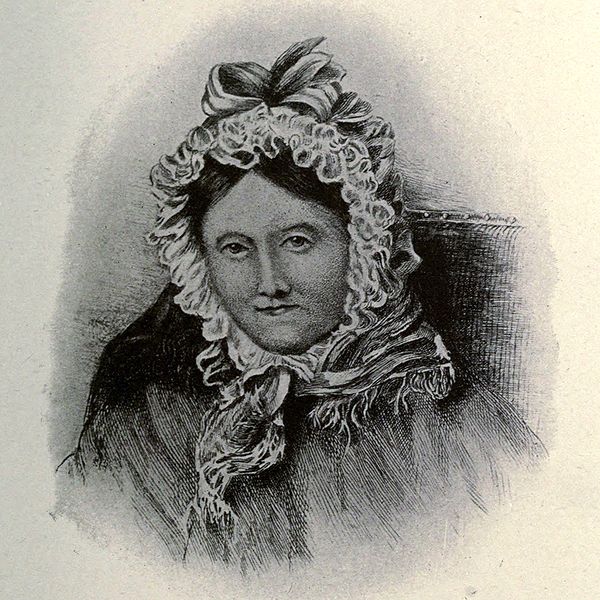 Dorothy Wordsworth lies buried in one of the most beautiful churchyards in England, at Grasmere in the Lake District, with her brother William, his wife Mary, and other members of the family. She is remembered for her delightful diaries, which were not published until years after her death. She started her first journal in 1798 when she and William were living at Alfoxden House in lovely country in the Quantock Hills in Somerset, enjoying a close mutual companionship with their friend Coleridge as he and William, with Dorothy's assistance, created Lyrical Ballads and the Romantic Movement in English poetry. At the end of 1799 she and William settled at Dove Cottage in Grasmere.
Dorothy was a year or so younger than William. Their parents had died when they were children and they were extremely close. She had no money and no income, and the pair of them ate cheaply and begged their friends for cast-off clothes. Dorothy was kept busy sewing and 'Today I mended William's shirts' was a frequent diary entry. Now in her thirties, with grey eyes and bad teeth, she was short and wiry, tanned from much time outdoors, an unconventional person who took long walks in the country by herself, enjoyed chatting with passing tramps and did the wash on Sundays.
Dorothy never married and remained a full, hard-working member of the household when William married Mary Hutchinson  in 1802. Dorothy was then thirty-one and had decided that she was far too old to think of marriage for herself. The inevitable rumours of incest with William which went the rounds were no doubt baseless, but all the same powerful emotional currents were running when he married Mary, who was an old friend of them both. One evening beforehand Dorothy wrote the three names down in a list with herself first – Dorothy Wordsworth, William Wordsworth, Mary Wordsworth – and then twenty minutes later in a different order with herself in the middle – Mary Wordsworth, Dorothy Wordsworth, William Wordsworth. The night before the wedding she slept with the wedding ring on her forefinger all night and when she gave it to William in the morning, he slipped it on her finger and blessed her fervently, before she gave it to him again. She did not attend the ceremony itself and before long she stopped keeping her diary.
In 1813 the Wordsworth menage moved to Rydal Mount, near Ambleside. Dorothy fell seriously ill in 1829 and from then on was an invalid. Her last years, from her sixties to her death at the age of eighty-four in 1855, passed in a deepening haze of senility. William died in 1850. In his final years, according to Mary, looking after Dorothy was the only thing in which he seemed to take any pleasure. With her head shaved, Dorothy seemed quite happy most of the time, occasionally making unseemly blowing noises and uttering shrill cries. Although her memory went, she could still recite all William's poetry off pat. The steadfast, sweet-natured Mary cared for her devotedly and she spent more and more time in bed, which was a relief to everyone. The end came peacefully at last at Rydal Mount. Mary, 'the solitary lingererer' as she called herself, lived on four more years, to 1859. Dorothy's journals were first published in 1897.