Giacomo Casanova died on June 4th, 1798. His autobiography guaranteed him an enduring reputation as a womaniser; but there was more to him than that.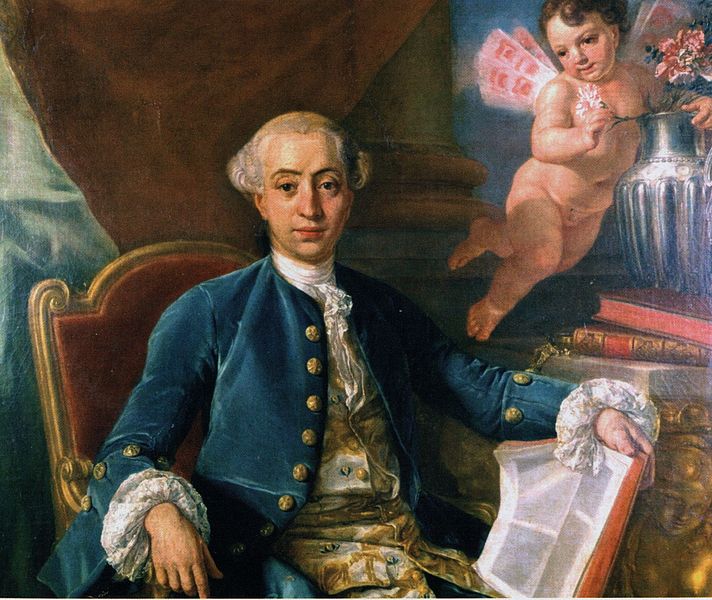 At the Count von Waldstein's château at Dux in Bohemia (now Duchcov in the Czech Republic) Giacomo Casanova, 'great lover', adventurer, confidence trickster and scallywag, breathed his last on June 4th, 1798, at the age of seventy-three. He had spent the last dozen years in discontented retirement as the amiable count's gentleman-librarian, in a humdrum, disappointed end to one of the most rackety and colourful lives any human being ever experienced. His autobiography guaranteed Casanova an enduring reputation as a womaniser on a heroic scale and he was not immune to the attraction of his own sex either, but there was more to him than that. In a life spent frequently on the run, an object of interest to every secret policeman in Europe, he was in his time, cleric, theatre violinist, army officer, gambler, diplomat and spy, go-between and 'fixer', financier and lottery promoter, Freemason and occultist, prolific author and translator of the Iliad.
Casanova was born in Venice in 1725. His mother was an actress and his ostensible father a dancer, but his real father was the wealthy owner of the San Samuele Theatre, where they both appeared and where Giacomo himself would later earn his living playing the violin. He studied at Padua University, took minor orders as a cleric and was presently given a position by Cardinal Acquaviva, the most powerful man in Rome after the pope. Casanova met all the best people in Rome, but got into trouble over a woman, was sent away and made a journey to Corfu and Constantinople, the beginning of a lifelong odyssey.
Making his living by his wits, Casanova became a seasoned traveller. The big, impressive head, prow of a nose, dark eyes and lively, engaging swagger of the Chevalier de Seingalt, as he started to call himself, were known in Paris, Dresden, Prague, Vienna and Berlin, Geneva, London, Florence, Rome and Turin, Madrid and Lisbon, Amsterdam, Brussels, Warsaw and St Petersburg. He moved as easily at court and in polite society as in the underworld of prostitutes, pimps, abortionists and cardsharps. He loved the theatre, eating and drinking, and most especially crawfish soup. Imprisoned in Venice in his twenties as a Mason and suspected practitioner of the black arts, he made a spectacular escape over the roof. In Paris, where he introduced the lottery and made a reputation as a financier and had a host of aristocratic friends, he claimed to have pimped the gorgeous young O' Morphy (of the Boucher painting) for Louis XV and took the credulous elderly Madame d'Urfe for perhaps as much as a million francs while staging magical operations for her to be reincarnated as a baby boy.
A well-informed amateur of science and mathematics, Casanova hobnobbed with half of the celebrities of the day. He discussed etymology with Dr Johnson and problems of steering balloons with Benjamin Franklin. He held brilliant conversations (or said he did) with Voltaire. He met 'Butcher' Cumberland, Madame de Pompadour, the Young Pretender, two popes and possibly Mozart. He tried to persuade the Emperor Joseph II to organise Chinese fêtes in Vienna. He urged calendar reform upon Catherine the Great in conversation with her in St Petersburg and Frederick the Great offered him a post as tutor to specially selected bright young noblemen in Berlin.
Casanova was thirty-eight when he arrived in London in 1763, probably hoping to introduce the English to the joys of a state lottery. The French ambassador presented him to George III and Queen Charlotte, but he made no progress, contracted a fierce case of venereal disease and withdrew. He afterwards looked back on his period in England as the beginning of the long decline in his fortunes which eventually reduced him to spying and informing for the government in Venice in the 1770s. From 1785 he lived at Dux in the service of the youthful Count von Waldstein, whom he had met in Vienna. They were both Freemasons and both interested in the occult.
At Dux Casanova grew increasingly bored, unhappy and bad-tempered. The count was often away, the coffee and the macaroni were not as they should have been, the soup was either too cold or too hot and people sniggered when he politely made the grand, sweeping bow which had been fashionable in his youth or showed them exactly how to dance the minuet. Desperate for something to do, he wrote the scandalous memoirs which were published years afterwards to give him lasting fame. When the end came, he declared, 'I have lived as a philosopher and die as a Christian', and was buried in the graveyard of St Barbara's church, just outside Dux, beside the lake.