C.E. Stevens explains how, by crossing the Rubicon, Julius Caesar challenged the power of the Roman Senate, and opened the way for the foundation of the Roman Empire.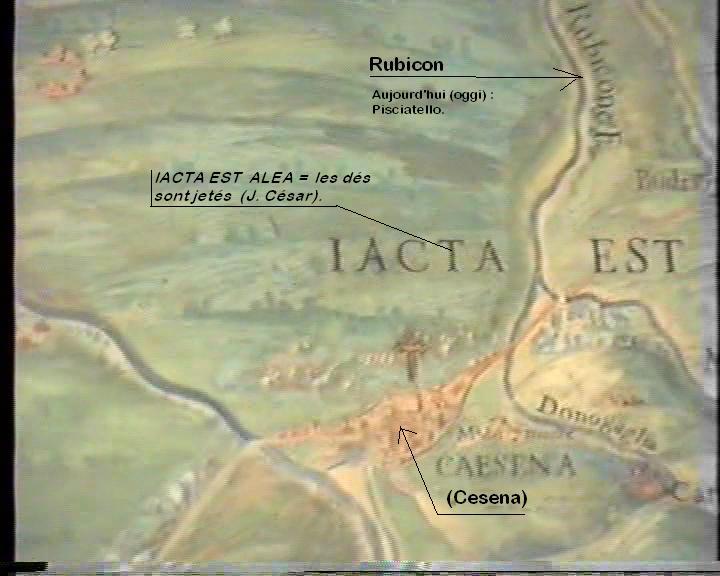 The Rubicon to the right of Cesena, at Pisciatello
At least four alleged, episodes in ancient history have become commonplaces of ordinary language. One is fictitious: Alexander did not weep because there were no more worlds to conquer. Two are very doubtful: Alexander, if he did anything to the Gordian Knot, untied rather than cut it; and Nero, according to Tacitus, did not 'fiddle while Rome was burning.'; But Julius Caesar did, in fact, 'cross the Rubicon,'; even though we cannot be certain which streamlet between Ravenna and Rimini once bore that name. 
'Crossing the'Rubicon'; meant that a general, of his own initiative, left the sphere of competence, his province, committed to him by a Law of the Roman people, to challenge established authority represented by the governing oligarchy, the Senate. It was a decisive incident in the life of Julius Caesar; and Plutarch's account, which derives from an eye-witness, emphasizes the point: 'When he came to the river which separates Cisalpine Gaul from the rest of Italy - it is called the Rubicon - and began to reflect... he communed with himself a long time in silence as his resolution wavered back and forth, and his purpose then suffered change after change... But finally, with a sort of passion, as if abandoning calculation and casting himself upon the future, and saying... 'Let the die be cast,' he hastened to cross the river.'