The Coronation of George III
George III was crowned on September 22nd, 1761, aged 22. One of the longest reigns in English history was under way.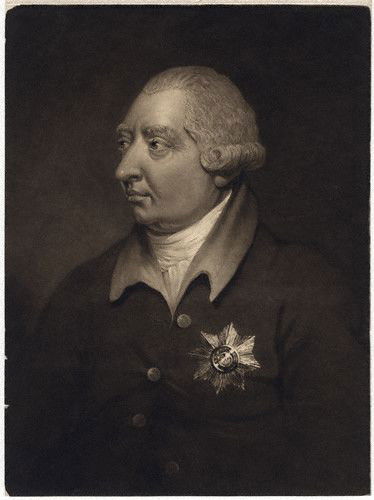 Unlike his two predecessors of the House of Hanover, George III was raised in England and spoke English as his first language. Born two months prematurely in London in 1738 and baptised George William Frederick the same day because it was feared he would not survive, he would live to the age of 81.
From the age of four George and his younger brother Edward were brought up in a house in Leicester Square rented by their father, Frederick, Prince of Wales. He had them educated by private tutors, but Edward was his parents' favourite and poor George had a dismal childhood. Prince Frederick, who was utterly detested by his own father, George II, died suddenly in 1751 when George was 12. He was now made Prince of Wales but was kept at home and away from society by his mother, Princess Augusta of Saxe-Coburg. He grew up lonely and shy, with no friends of his own age.
By 1755 Princess Augusta had taken John Stuart, Earl of Bute as her confidant and adviser and, according to the accepted gossip of the time, her lover. Bute gave George the affection and encouragement he needed. He was in effect a substitute father and George responded with dog-like devotion. When George's grandfather, George II, wanted to set him up with his own household in St James's Palace in 1756, it was Augusta and Bute who persuaded him to stay at home with them. They also encouraged him to reject the German princess his grandfather wanted him to marry.
In 1759, when he was 21, it was in Bute that George confided his 'daily increasing admiration of the fair sex', which he was trying hard to suppress. He had fallen in love with a captivating young beauty, Lady Sarah Lennox of the Duke of Richmond's family, and longed to marry her, but Bute advised him against it and George sadly accepted the advice. 'I am born for the happiness or misery of a great nation,' he wrote, 'and consequently must often act contrary to my passions.'
The death of George II in October 1760 brought his grandson to the throne at the age of 22, to general acclamation. As Dr Johnson said, he enjoyed the great advantage of not being his grandfather. In his accession speech to Parliament, George declared: 'Born and educated in this country, I glory in the name of Britain.' The speech had been written for him, but he inserted this phrase himself.
George needed a bride and one was found in another German princess, Charlotte of Mecklenburg-Strelitz, who was 17. Her measurements were sent to London in advance for the dressmakers and she and George met for the first time on the day of their wedding in the Chapel Royal, a fortnight before their coronation. Lady Sarah Lennox was one of the bridesmaids. Charlotte was considered gauche but she and George were devoted to each other and would produce 15 children.
All London was now agog and people said that no one could think or talk of anything except the royal wedding and the coronation. So many carriages battled to reach Westminster Abbey on coronation day that many of them collided in chaos. George and Charlotte were carried to Westminster Hall separately in sedan chairs and then escorted into the abbey on foot, each under a canopy. When the crown was placed on George's head a huge cheer went up from the boys of Westminster School and the rest of the congregation. When the Archbishop of Canterbury climbed into the pulpit to deliver his sermon, however, the congregation took the opportunity to eat the supplies of cold meat and pies with plenty of wine that they had prudently brought with them or were handed round by servants, with noisy clattering of plates, glasses and cutlery. At George's request Zadok the Priest was sung as the anthem.
After the service came the coronation banquet in Westminster Hall, presided over by the Lord Steward, the Lord High Constable and the Deputy Earl Marshal. All three of them were on horseback, as was the king's champion, who rode in in full armour and dramatically threw down his gauntlet to challenge anyone who dared dispute the new king's right to the throne. Hungry spectators up in the galleries let down baskets and handkerchiefs to more privileged friends at the tables below, who sent them back up filled with chicken drumsticks and bottles of wine. A great occasion was enjoyed by all and one of the longest reigns in English history was under way.