Constantine: Britain's Roman Emperor
Christopher Kelly introduces the Emperor Constantine.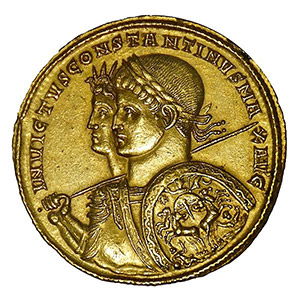 At noon on October 28th, AD 312, God dramatically intervened in the course of human history. At least according to Eusebius (bishop of Caesarea on the coast of Palestine) the self-appointed biographer of the newly Christian Roman emperor, Constantine. In late October 312 Constantine advanced on Rome, the culmination of a swift and bloody civil war against Maxentius, a rival claimant to the imperial throne.
The armies met at the Milvian Bridge outside the city. Maxentius' forces crossed the Tiber on boats lashed together. They were quickly routed by Constantine's more experienced troops. Attempting to retreat to the safety of the city walls, the crush of panicked men fleeing for their lives caused the pontoon-bridge to break up. Maxentius and his bodyguard were pitched into the river and swept away in its swift-flowing current.
In Eusebius' view this was a memorable moment of Christian triumph. Above all, it recalled the Israelites' crossing of the Red Sea. Constantine's defeat of Maxentius at the Battle of the Milvian Bridge replayed the Biblical account in Exodus. Constantine was a modern Moses. Maxentius failed like Pharaoh before him. Drowned in the turbulent waters of the Tiber, he 'sank to the bottom like a stone'.