Close of the Paris Exposition Universelle
The Exposition Universelle in Paris ended on November 12th, 1900. In seven months, the Exposition drew over 50 million visitors.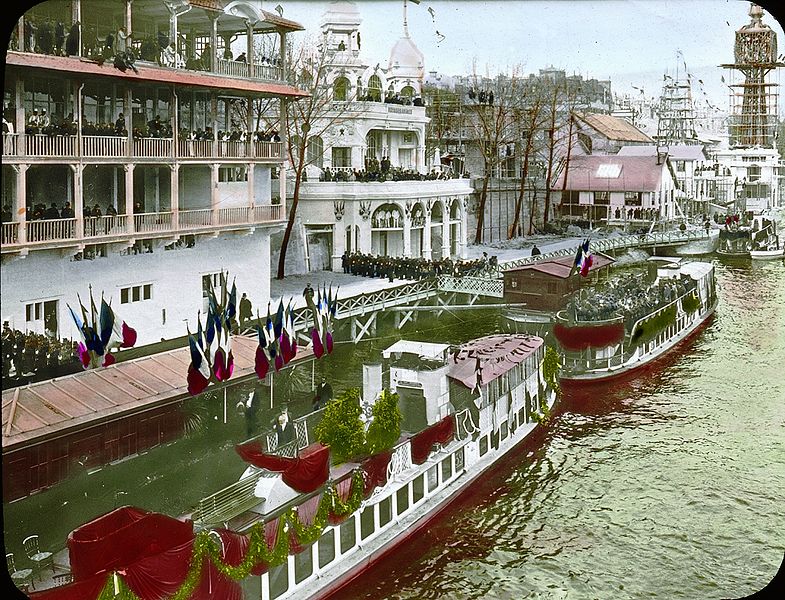 The Exposition Universelle in Paris in 1900 is widely regarded as the most brilliant event of its kind. The Métro with its spectacular Art Nouveau stations was opened for it. So were the imposing Pont Alexandre III and two new art galleries, the Grand and the Petit Palais - as well as the Gare d'Orsay, which looked like a huge palace of art itself. The exhibition was not remotely ready when it was formally opened by the President of the Republic, Emile Loubet, on April 14th, 1900. Most of the 76,000 exhibitors were late, the Métro was still being dug, the rehanging of the Louvre galleries had not been completed, the spectacular Palais de l'Electricité had no current, and the press had much fun with the fact that there was little for the first day's 150,000 visitors to see but building sites and mud.
Once the show got going, however, the attractions were breath-taking. More than forty nations showed themselves off in pavilions beside the Seine. Lutyens designed the British pavilion, which had Morris & Co stained-glass windows and was hung with landscapes by Turner and Constable, and portraits by Reynolds, Gainsborough and Raeburn. There was an Egyptian souk, a Swiss Alpine village and a Japanese pagoda. There was a giant ferris wheel and a moving pavement more than two miles long. An electric train toured the grounds. There were displays of motor cars and photography and the early moving pictures. There was Lalique glass, Japanese silk, Parisian couture, miracles of Scandinavian design, and an ominous armaments pavilion. The technology exhibits so thrilled the Italian artist Giacomo Balla that he afterwards called his three daughters Luce (Light), Elettricita (Electricity) and Elica (Propeller).
Special emphasis was placed on painting and sculpture. The Exposition Centennale displayed French art since 1800, with work by David, Ingres, Courbet, Renoir, Monet, Degas, Rodin, Cezanne and Gauguin. Twenty-nine countries exhibited in the Exposition Décennale in the Grand Palais, the biggest collection of contemporary art ever assembled up to that time. More than 6,500 works by more than 3,000 artists of all ages and all tendencies were on show - a thousand were French, 251 came from the US, 223 from Great Britain, 177 from Japan, 157 from Russia and Finland, and so on down to two from Mexico and one from Nicaragua. There was work on show by Roualt, Klimt, Whistler and the youthful Picasso, who paid his first visit to Paris to see his picture in the Exposition. Rodin, whose 'The Kiss' was an eye-catching exhibit, shrewdly organised a separate, highly successful exhibition of his own in the Place de l'Alma. The final day of the Exposition drew more than 350,000 visitors, bringing the final total to over 50 million in seven months.