Churchill: Of Words and Deeds
Fifty years on from Winston Churchill's death, Chris Wrigley surveys the literature available, highlighting key works and lesser-known titles.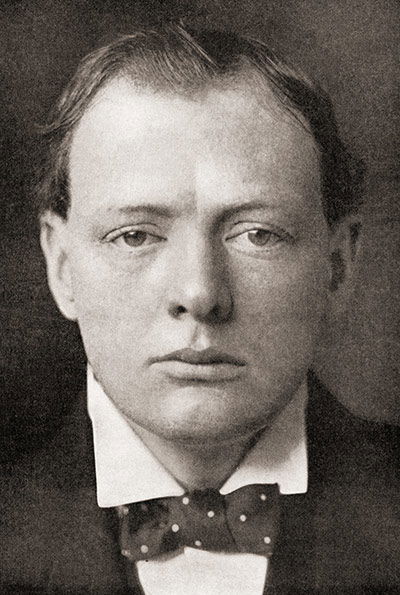 On January 24th, 1965, Sir Winston Churchill died. Much of the nation watched television six days later, when his state funeral was held in St Paul's Cathedral. Just over 112 years earlier, in November 1852, a state funeral had been held there for another Conservative prime minister and soldier, the Duke of Wellington. Wellington was buried in a tomb beside Lord Nelson in St Paul's, but Churchill was buried beside his parents and his brother at St Martin's Church, Bladon, Oxfordshire. His funeral seemed to mark the end of an era, almost the last wheeze of Empire.
Churchill was a soldier in the late Victorian British Empire. His experiences fighting on the North-West Frontier of India coloured his understanding of India thereafter. He displayed great bravery when fighting in India, with Kitchener's forces at Omdurman in 1898 and as a war correspondent in South Africa in 1899-1900. The importance of his military career has been discussed often, not least in the official biography by Randolph Churchill and Martin Gilbert. This career is surveyed well by Douglas S. Russell in Winston Churchill – Soldier: Life of a Gentleman at War (2008).
The important theme of Empire has been reappraised by Lawrence James in Churchill and Empire: Portrait of an Imperialist (2013). James is notable for reiterating Churchill's dismay that his rearguard defence of the British Empire was undercut by US hostility to it and by the American desire for imperial markets to be freely open to US business. Recently, Churchill's imperial role has been indicted for his failure to prioritise the supply of grain to starving people in Bengal in 1943. Madhusree Mukerjee's Churchill's Secret War: The British Empire and the Ravaging of India During World War II (2010) makes the case that Churchill blocked supplies of Australian wheat that could have been moved to Bengal in 1943. Her arguments have been contested, but, in my view, not convincingly on her central argument, by several historians, including James and Arthur Herman, author of Gandhi and Churchill (2008).
While James and Mukerjee rightly comment that Churchill held many of the contemporary views that saw African and Asian people as in some way inferior to the British (views not unknown now), Churchill was often enlightened with regard to Muslims, especially in the Middle East, and Churchill's often complex relations here are fruitfully explored by Warren Dockter in Winston Churchill and the Islamic World: Orientalism, Empire and Diplomacy in the Middle East (2015). Churchill also respected the Jewish people, a theme explored by Martin Gilbert in Churchill and the Jews: A Lifelong Friendship (2007).
In later life, as the Empire crumbled, Churchill drew solace from his warm feelings for the US, which derived in part from his American mother, the former Jennie Jerome. The influence of the US politician Bourke Cochran on Churchill has been explored by Michael McMenamin and Curt J. Zoller in Becoming Winston Churchill (2007). Gilbert revisited the Anglo-American theme in Churchill and America (2005), while David Dilks wrote The Great Dominion: Winston Churchill in Canada, 1900-1954 (2005).
For much of his career, Churchill also made his mark by writing for the press. He was always well paid, including when writing about the campaigns he participated in as a young man, and his early journalism constitutes a form of 'contemporary history'. He later wrote multi-volume histories of the First and Second World Wars. Jonathan Rose focuses on the significance of his writing and the literary influences on his career in The Literary Churchill: Author, Reader, Actor (2014). Rose proclaims that he has written 'political history as literary history' and takes a fresh view of Churchill's career, often providing new insights, but occasionally pushing his arguments too far. He identifies such influences on Churchill's writing as George Bernard Shaw and H.G. Wells and argues that Churchill was much influenced by Victorian melodrama at the theatre.
Churchill's early career as a writer is also explored very ably by Richard Toye in Churchill's Empire: The World that Made Him and the World He Made (2010), while in Mr Churchill's Profession: Statesman, Orator, Writer (2012) Peter Clarke reviews his whole career as a writer and in so doing makes a case for according greater respect for Churchill's A History of the English-Speaking Peoples, deeming it 'the seedbed of much of his memorable wartime oratory'. The oratory and its impact have been reassessed by Toye in The Roar of the Lion: The Untold Story of Churchill's World War II Speeches (2013).
Some of the best books on Churchill have analysed the links between his actions and his historical writings. Robin Prior shrewdly assessed Churchill's 'World Crisis' as History (1983). With Churchill, Strategy and History (1992), Tuvia Ben-Moshe provided a very good but notably critical study of Churchill's strategic policies in both world wars, with the focus heavily on the Second. David Reynolds' In Command of History: Churchill Fighting and Writing the Second World War (2004) is an outstanding study of Churchill's writing and rewriting his account of the Second World War, in which he took care to present most of his actions in the best light and was careful not to offend those still in power, such as President Eisenhower.
Churchill's domestic policy has been superbly dealt with by Paul Addison's Churchill on the Home Front 1900-55 (1992). Michael Shelden provides fresh detail on Churchill's early career in Churchill: Young Titan (2013), which depicts him again as a giant among political pygmies.
Churchill's anti-Bolshevik crusade after the First World War is ably examined in detail in Martin Kettle's Churchill and the Archangel Fiasco (1992) and further discussed by Douglas Kinvig in Churchill's Crusade: The British Invasion of Russia 1918-20 (2007). Churchill's concentration on the Cold War in his postwar government is dealt with authoritatively by John Young's Winston Churchill's Last Campaign: Britain and the Cold War 1951-55 (1996) and added to by Uri Bar-Noi in The Cold War and Soviet Distrust of Churchill's Pursuit of Détente 1951-55 (2007), drawing on the now available Soviet archives.
One of the more innovative books on Churchill is Man of the Century: Winston Churchill and His Legend Since 1945 (2002) by the late John Ramsden. This study of the Churchill legend is hard-headed, examining how the Churchillian myth was carefully constructed, not least by Churchill himself as he resurrected a career which had faltered badly in the 1930s. Ramsden's book might well be read as a balance to Boris Johnson's The Churchill Factor: How One Man Made History (2014).
Chris Wrigley is Emeritus Professor of History at the University of Nottingham.