Christopher Marlowe baptised in Canterbury
The playwright was baptised on February 26th, 1564.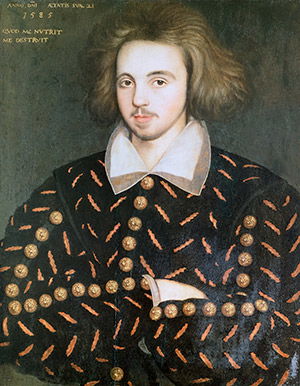 The playwright, poet and translator of Ovid's erotic poems, whose brief life blazed across Elizabethan England like a meteor, was the son of a Canterbury cobbler. He was baptised at the church of St George the Martyr, probably within a few days of his birth (which made him a couple of months older than Shakespeare). He went to the King's School in Canterbury and to Corpus Christi College, Cambridge on a scholarship in 1580, when he was 16.
Marlowe took his BA in 1584, but the university had misgivings about awarding him an MA in 1587 because of fears that he meant to go abroad to become a Roman Catholic priest. The fears were put to rest in June by a letter from the Privy Council in London which stated that Marlowe had behaved himself in an 'orderly and discreet' manner and done Elizabeth I 'good service' in 'matters touching the benefit of his country'. The 'matters' were not explained, but college records show that Marlowe had been spending more time away from Cambridge than was normally expected and more money than could be accounted for. The episode has been taken to mean that he had been recruited as a secret agent of the queen's intelligence service, headed by Sir Francis Walsingham. If Marlowe was a spy there is no evidence of who and what he was spying on, but the Privy Council's letter certainly indicates that he had been serving the government in some confidential capacity.
Moving to London, Marlowe wrote plays that caused a sensation, starting with Tamburlaine the Great and following up with a succession of dramas, the best-known of which is The Tragical History of Doctor Faustus. Both Tamburlaine and Faustus were played by a leading actor, Edward Alleyn, and Marlowe was probably the most admired playwright of the time. Little is known about his private life, which has enabled biographers to depict him variously as a brawling profligate, a homosexual, a bisexual and an atheist.
Doubts surround his death at the age of 29 on May 30th, 1593, when he was stabbed in the head during a quarrel after supper over the bill, which came to blows in a house in Deptford. He was buried two days later in an unmarked grave in the churchyard of St Nicholas and the inquest found that the killer had acted in self-defence. The notion that the story was faked and that Marlowe lived on in secret writing the plays attributed to Shakespeare has not found many supporters. Tennyson called him the 'morning star' that heralded Shakespeare's 'dazzling sun'.