Chopin: The Public Face of Poland
During his brief life, the Polish master of the musical miniature became a living symbol of his troubled nation. Adam Zamoyski looks at the reception given to Chopin by a divided public when he visited Britain in 1848, a year of revolution through Europe.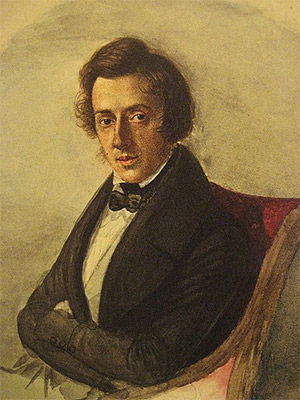 Chopin at 25, by Maria Wodzińska, 1835
Chopin may have been the most innovative and patriotic of composers, but he was no revolutionary. And, although he spent half of his life as a political exile, this was largely the result of circumstance. In November 1830, when revolution broke out on the streets of Warsaw and the Kingdom of Poland created by the Congress of Vienna attempted to throw off the Russian yoke, the 20-year-old composer was in Vienna on the first leg of a tour of Europe. He carried on to Paris, where he was to have gone anyway, and there manifested his solidarity with his fellow Poles by choosing a life of exile.
Unlike most of his compatriots, however, he quickly accommodated himself to the capitalist regime of King Louis-Philippe (r. 1830-48). It was not that he was particularly conservative by inclination. But he was fastidious to a degree, dressing like a dandy and furnishing his lodgings like a cocotte. He loved refinement, luxury, good manners and all the other attributes of the aristocratic society in which he thrived. The aristocracy and newly rich middle class
of Paris paid lavishly to hear him play and have him teach piano to their daughters and treated him like one of themselves.