Charlie Chaplin's Coffin Stolen
Chaplin's coffin was stolen from a Swiss cemetery on March 2nd, 1978.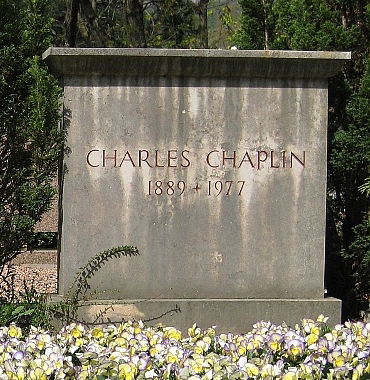 Chaplin spent the last years of his life in Switzerland with his fourth wife Oona, and died at his home in Corsier-sur-Vevey on Christmas Day 1977 at the age of eighty-eight. A simple funeral was held four days later at the Anglican church in Vevey and the body was buried in the local cemetery.
Two months later the grave was found empty and the coffin missing. The media variously claimed that fans had made off with his remains, that local anti-semites objected to a Jew's presence in a Christian burial ground or that neo-Nazis had taken revenge for The Great Dictator. The truth was that thieves had taken the coffin and were demanding 600,000 Swiss francs for its return. Oona Chaplin refused to deal with them, saying, 'My husband is in heaven and in my heart'.
After eleven weeks the intact coffin was found buried in a cornfield. The police duly caught the thieves, both motor mechanics, one an unemployed Pole, the other a Bulgarian.