The Map: The Principal Mountains and Rivers of the World, 1829
A comparison chart illustrating the beauty that science could produce.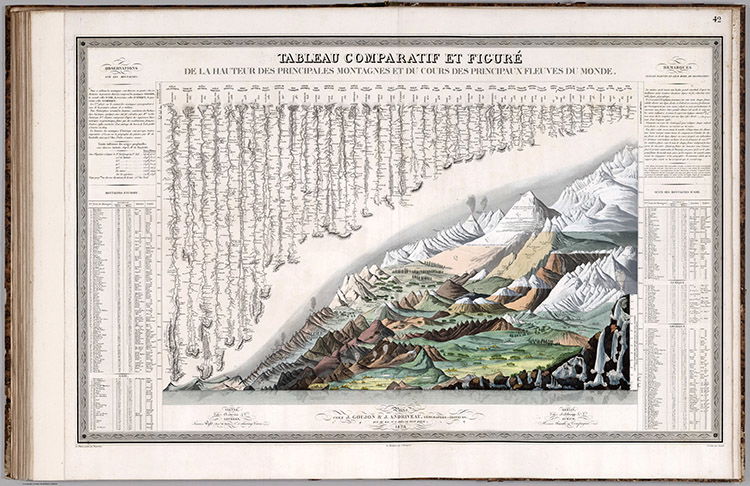 The Enlightenment brought with it a new way of viewing the world. Mountains were no longer part of the earth, but became discrete concepts that could be removed from their environment to be measured, defined and understood. During the 19th century, this resulted in comparison charts appearing in textbooks and atlases, showing the beauty that science could produce.
Comparison charts of mountains found their origins in one by Alexander von Humboldt from 1805, in which he presented the results of his ascent of Mt Chimborazo in the Andes, showing it in profile and noting in the accompanying text the relative heights of other peaks. In 1817 the brothers William and Daniel Lizars produced the first formal comparative chart of the world's mountains, separated from their surroundings and placed alongside each other, inviting comparison of their similarities and differences. Openly acknowledging Humboldt as their inspiration, they even drew him as a tiny figure on the face of Chimborazo, below a circling condor.
Comparative charts of the rivers developed later, the first example being a comparison of the rivers of Scotland in 1822.
This map, by J. Andriveau and J. Goujon, is one of the more elaborate examples. It includes the mountains of the world, beginning with the Pyramids at the bottom end of the scale. The tallest peak is 'Dawalagiri' in Nepal as, at that time, it was the highest mountain to have been surveyed. The rivers range in length from the Amazon to the Forth. Also shown are notable cities and lakes, a comparison of waterfalls in the bottom right-hand corner (below Etna, mid-eruption) and extensive notes on vegetation.