The Map: Canterbury Cathedral, 12th century
An aerial view of a hydraulic system that pumped fresh water into the monastic complex.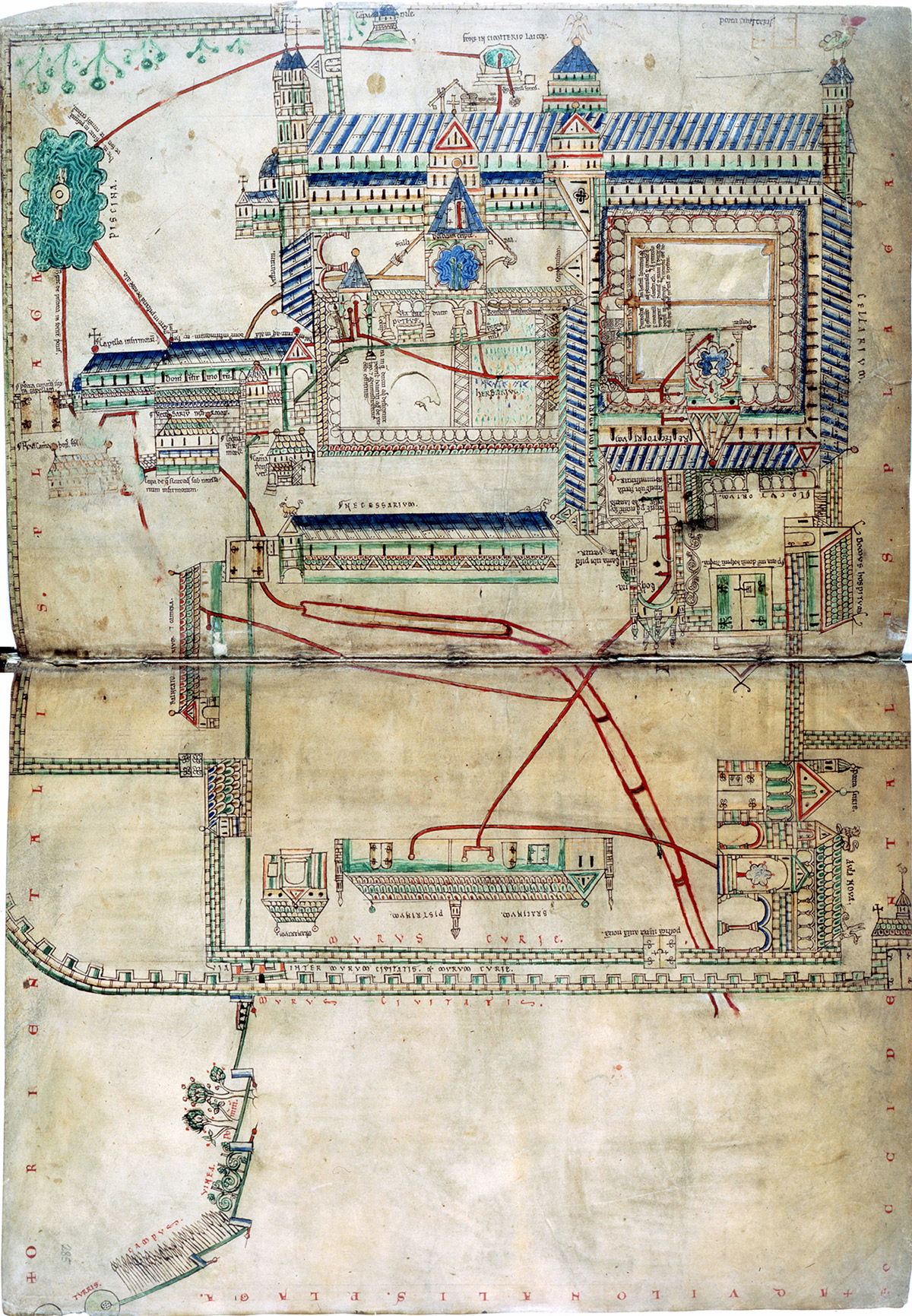 Having been sent to convert the English by Gregory the Great in the sixth century, St Augustine founded a cathedral at Canterbury, which became one of the most powerful places in Anglo-Saxon England. A Benedictine abbey was added in the 10th century.
Although the Rule of Benedict, by which the order lived, dictated that bathing was considered a luxury, the daily routine required washing before meals and in the mornings. Water was also, of course, needed in all areas of the priory. This plan, designed by Prior Wilbert (1153-67), shows their solution.
Drawn into a book held in the cathedral's library called the Eadwine Psalter, named for the scribe who produced it, the plan shows an aerial view of the 12th-century hydraulic system that circulated water into the monastic complex, through cornfields, vines and orchards, around the priory and then out again.
The system transported about 10,000 litres of fresh, pressured water every hour from a spring-fed pond a kilometre to the north of the cathedral. It is presumed that a plan of such detail was needed in case of repairs or replacement of the lead pipes; its accuracy has been attested in subsequent excavations.
The direction of water flow is colour-coded and demonstrates the complexity of the system: green pipes carried fresh water, orange travelled through the cloister where the monks had their living quarters, red carried sewage away from the communal toilets (necessarium), yellow probably marks a soakaway and brown pipes carried away rainwater.
The fresh water travelled first through the infirmary, then to a washing area, before being sent around the priory; to the kitchen and brewery, among other places. Waste water fed into the fish pond (piscina, top-left) in the court before flushing away waste from the necessarium into the city ditch.