The founder of Mormonism was born on December 23rd, 1805.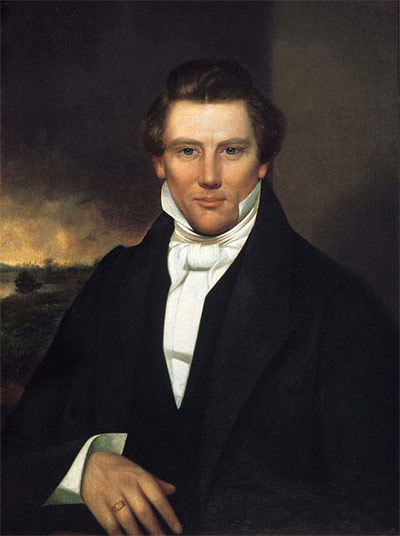 The apostle of the Mormons came from a poor farming family, scratching a living in New England and moving on frequently in search of opportunity. He was born at Sharon in Vermont, the fourth child of Joseph and Lucy Mack Smith, and most of what little is known about his early life comes from a book his mother wrote after his death. In 1816, close to destitution, the family moved to Palmyra in Upper New York State, south of Lake Ontario. Lucy Smith had nine cents left in her pocket when they arrived.
The Smiths built themselves a log cabin, crowded with the two parents and eight children aged from two to nineteen, but 'snug' as Lucy remembered it. The area was still quite heavily forested and young Joseph spent his adolescence hard at work ploughing and clearing trees and brush, and took occasional jobs with other local farmers. Such education as he had was gained at home. Lucy remembered him as 'a remarkably quiet, well-disposed child', not particularly fond of books, but of a meditative nature.
Joseph grew up against a background of successive evangelical revival movements in New England. Joseph's parents were not church-goers, but they were seriously religious-minded and reading the Bible and saying prayers were part of the family life at home. At around twelve, as Joseph recalled, he began to be seriously concerned for the welfare of his soul. He told his mother that 'he wanted to get religion too, wanted to feel and shout like the rest but could feel nothing'. He almost joined the Methodists, but held back. Troubled and anxious, at the age of fifteen in 1820 he went to a clearing in the woods to pray to God for help and had a conversion experience which Mormons would later call the First Vision. He said that a pillar of light came down and rested on him and he was filled with the spirit of God and heard the voice of Christ telling him that his sins were forgiven him.
In his twenties followed the experiences in which the secret golden plates, inscribed in a revised version of Egyptian hieroglyphics, were revealed to him by the angel Moroni and proved to contain the text of the Book of Mormon. This history of the New World told how in 600 BC Israelites migrated to America and in due time the resurrected Christ came among them and inaugurated an era of righteousness and peace. It was Joseph's mission to re-establish this primordial church. Despite much scorn and opposition, he founded the Church of Jesus Christ of Latter Day Saints in 1830, with himself as Prophet and First Elder. His parents were among the first to join. He rapidly made converts and in 1831 led his followers westward, to Kirtland, Ohio, where he hoped to build the New Jerusalem, and in 1839 to Commerce, Illinois, which he renamed Nauvoo. His endorsement of polygamy in 1843 – he himself had more than twenty wives by that time – aroused violent hostility. He announced his intention to run for the presidency of the United States, but he was killed by a hostile mob in Carthage, Illinois, in 1844, aged thirty-nine.
His heir was Brigham Young, also born in Vermont and from a similar background, who became a Mormon in 1832 and led his own group of recruits to join Smith in Ohio. After Smith's murder he took charge of the panic-stricken flock as chief of the Twelve Apostles and it was he who commanded the historic Mormon trek across the prairie to found Salt Lake City.