Birth of John Jacob Astor
The self-made American was born on July 17th, 1763.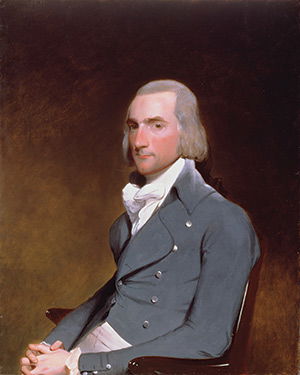 Thought to be the richest man in the United States when he died in 1848, he began life as a butcher's son in Germany. Johann Jakob Astor was born to a Lutheran family in the town of Walldorf (later Americanised to Waldorf), near Heidelberg. His mother died when he was three years old. In his early teens he helped his father in the slaughterhouse and the butcher's shop, but he did not enjoy it and in 1779, aged 16, he left Walldorf to join his oldest brother, who had a successful business making musical instruments in London. There he learned to speak English, though with a lifelong German accent, and called himself John Jacob.
Another brother was in America, working as a butcher, and in 1783 young Astor took ship to the New World. Arriving in New York City, he got a job with a fur dealer, which he combined with selling musical instruments imported from London. He soon started dealing in furs on his own account and married his landlady's daughter, a girl called Sarah Todd.
By the 1790s Astor was buying furs in the northern United States and Canada and exporting them to Europe. He also exported furs to China with other products, including opium. In 1808 he set up the American Fur Trading Company, which came to dominate the trade from the Great Lakes area and the Pacific Northwest. Meanwhile he had begun buying property in New York City. Sensing that the fur trade's heyday was over, Astor withdrew from it in the 1830s. Now a millionaire, he started acquiring more and more land in Manhattan and it was this that made him his gigantic fortune. His biographer Axel Madsen quotes a friend of Astor's, who said that 'All he touched turned to gold.' When he died at the age of 84 he was believed to be worth at least $20 million, equivalent to more than $110 billion now. The Astors have remained rich and influential ever since.