The exchange of wanted persons between the UK and the US is a contentious issue and has been for more than 200 years.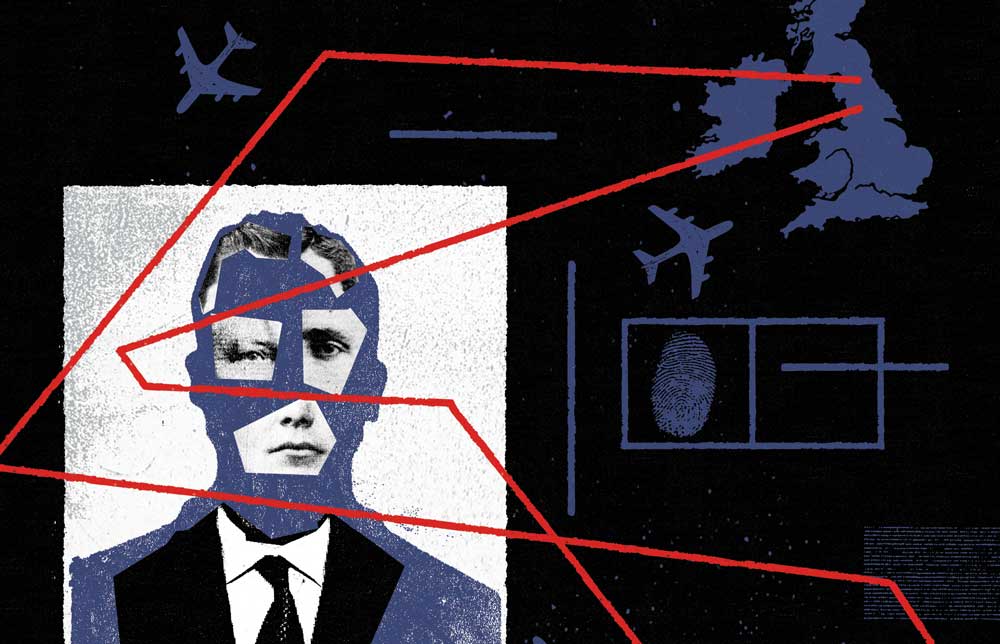 Anglo-American extradition is in the news. The administrations of both Donald Trump and Joe Biden have refused to return Anne Sacoolas for prosecution over teenager Harry Dunn's death in 2019 on the grounds of her diplomatic immunity. Yet both have pressed for the transfer of WikiLeaks founder Julian Assange, who may become the first person to be returned to the US on espionage charges. The cases have prompted criticism of a powerful country's high-handed approach to extradition, but they are not arbitrary. They can be situated within a set of rules governing Anglo-American extradition that spans more than 200 years.
The relationship began in 1794 with the Jay Treaty, which established peace between the newly independent United States and Britain, allowing the 'surrender' of murderers and forgers. The first of these was the Irishman Thomas Nash who had mutinied with his fellow crewmen aboard HMS Hermione, murdering their captain and officers in Puerto Rico in 1797. When a British consul identified Nash masquerading as an American called 'Jonathan Robbins', the US president John Adams urged the judge involved to return him to the British. Nash was extradited and hanged in Jamaica in 1799.
Aghast at surrendering a supposed US citizen without legal protection, a group of anti-British Democratic-Republican Party members under Thomas Jefferson used the issue to help defeat Adams in the 1800 election. Nash would be the only person handed over to the British until 1843, as the US did not renew the Jay Treaty or its extradition provision on its expiry in 1805.
Webster-Ashburton
The festering issue of Canadian-American boundary disputes would provide impetus for the next development in extradition policy. Canada's colonial government had granted some 10,000 escaped slaves sanctuary before making an exception, in 1841, in the case of Nelson Hackett, a valet and butler who had fled an Arkansas plantation. Hackett was accused of stealing a horse to aid his escape, as well as a gold watch, coat and saddle. Returned to the US in the following year, he was flogged several times and sold to a Texas slave owner – his eventual fate is not known. Public opinion was outraged; abolitionists feared that the case would set a precedent.
Thus the British politician Lord Ashburton was sent to Washington in 1842 where he negotiated the Webster-Ashburton Treaty with the US Secretary of State, Daniel Webster. This agreement settled boundary disputes, sought 'the final suppression of the African slave trade' and agreed to 'the giving up of criminals, fugitive from justice, in certain cases'. Criminals could be surrendered for murder, assault, piracy, forgery, arson or robbery. 
The first extradition following the treaty attracted little attention. The US returned Christian (or Christina) Gilmour, a Scottish woman who had murdered her husband in Renfrew in 1843. Arrested in New York, she had fled to the US on the very ship that carried the treaty ratification papers.
A pattern was set for granting extradition unless the courts ruled against it. In the same year that Gilmour was returned to Britain, Bow Street magistrates declined to extradite Andrew Pollock to the US. Pollock was accused of defrauding the Bank of America; the extradition was denied because the Webster-Ashburton Treaty did not cover embezzlement. The US State Department accepted the point: 'The reason … appears to be just.' 
A final case concerning slavery occurred in 1854. A Canadian court agreed to return an escaped slave, John Anderson, who was accused of killing a farmer (who was pursuing him for reward). After a long appeals process, a higher Canadian court released him in 1861 on the grounds that the extradition request had not explicitly mentioned the treaty crime of murder. Anderson became a celebrity, touring Canada and Britain. 
Civil War
Legal problems caused incidents during the US Civil War. Canada refused to return 21 Confederate soldiers who had raided a Vermont bank in 1864. A court decided they had committed 'commissioned acts of war' and freed them. Angry Unionists made noises about crossing the border to stop Confederate raids from Canada, which as British territory risked an Anglo-American conflict. As a sop, Canada attempted to prosecute the raiders locally, which failed, but it did pass the 1865 Canadian Neutrality Act.
In 1875 a case arose which would blight extradition relations for two decades. That year Britain returned the Nottingham-born smuggler Charles Lawrence to New York. Arrested in Ireland, he was returned for 'forging and uttering a certain bond and affidavit', but the US wanted to prosecute him for additional crimes. The then British Foreign Secretary Edward Henry Stanley protested against this contravention of the 'specialty principle': an implicit rule that a person is only tried for the extradited crime. The US maintained its right also to try for further offences, as the 1843 treaty had not mentioned specialty. Britain consequently refused another American request for the return of forger Ezra Winslow. Lawrence was subsequently prosecuted, but only for the extradited offences: he pleaded guilty and was released with no sentence. 
Negotiations over a solution faltered. Britain required specialty in extradition treaties under its new 1870 Extradition Act, but the US maintained that this law did not affect the treaty. Washington eventually broke the impasse by proposing a new treaty with 'specialty', moved to do so because many of its citizens wanted action over criminals fleeing to Canada. The resulting Blaine-Pauncefote Treaty was signed in 1889.
Irish issues
Many Fenians who had taken part in the 'dynamite campaign' between 1880 and 1885 found sanctuary in the US. The murder in Dublin of the Irish Chief Secretary Lord Frederick Cavendish and the senior civil servant Thomas Burke in 1882 – known as the 'Phoenix Park' murders – had rocked Britain. Two of the assassins, Patrick Sheridan and John Walsh, fled to the US, which refused extradition on the grounds that the weak evidence against them had come from an informant. 
In 1902 Britain requested James Lynchehaun's return for attacking an English landowner, Agnes MacDonnell, on Achill Island in 1894. This crime between a landowner and her tenant occurred during the Irish landlord dispute. Agnes' house was burnt down and she was beaten so badly that she took to wearing a veil thereafter. 
After Lynchehaun was caught in Indianapolis in 1903 the American courts decided that his was a political crime, part of a peasant rebellion. British protests that Lynchehaun's crime was attempted murder without political motive had no effect. 
Britain tried once more. In 1917 it requested Michael O'Callaghan's return for killing two policemen. However, the American Embassy botched the authentication of Britain's papers – it isn't clear why – and London abandoned the case.
The courts decide
A new treaty in December 1931, instigated by the US Secretary of State Frank Kellogg, added possession of dangerous drugs to the list of crimes that could lead to extradition. Relations then continued smoothly, although anomalies did occasionally occur. The English swindler John 'Jake the Barber' Factor carried out a major fraud in Britain before fleeing to the US, which agreed to his return in 1933. However, Washington delayed his surrender because it wanted his testimony in other trials; he was linked with Chicago gangsters. This indefinite detention was found unlawful, causing his release. Making a fortune in real estate, Factor later became a major donor to the Kennedy family, earning a presidential pardon. 
Britain and the US updated extradition arrangements again in 1972, but problems remained over political offences. Between 1981 and 1985 US judges successfully argued that four IRA escapees were political cases. Ronald Reagan's administration fixed the problem with a retrospective 1985 supplementary treaty. Violent crimes were henceforth excluded from political offence exceptions; extradition was not permitted on the grounds of 'race, religion, nationality or political opinions'. 
The issue of capital punishment does not appear to have caused major problems. American prosecutors have provided assurances that the death penalty will not be brought against extradited prisoners. The murderer Jens Söring's extradition from the UK was halted in 1989 when the European Court of Human Rights ruled that there were insufficient assurances regarding the death penalty. Once these were granted, Söring was returned and convicted in Virginia.  
Updates
Britain negotiated a new treaty in 2003, when modernising extradition with all countries, including the EU. This caused debate when it was revealed that the prima facie evidence requirement for US extraditions, required since 1843, had been dropped. The US must now submit proof of reasonable suspicion and Britain must prove probable cause. Both standards are required for arrest warrants in either jurisdiction.
In the first case of its kind, Home Secretary Theresa May blocked the computer hacker Gary McKinnon's return in 2012. She argued that McKinnon – who has Asperger syndrome – might take his own life were he extradited. Like Sacoolas' case, this was unusual: extradition failures have mostly arisen from court decisions. In contrast, the Home Secretary Priti Patel signed an order for Assange's return in June 2022. In both cases, the respective governments have followed the agreed rules. Whatever their final outcomes, 200 years of following legal process is likely to continue.
Andrew Southam is a historical journalist.