From The Archive: The Unanswered Question
James Walvin praises Arnold Whitridge's study of the Atlantic slave trade, first published in History Today in 1958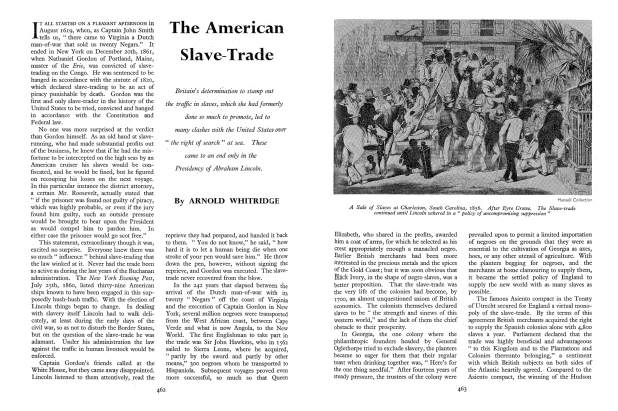 Arnold Whitridge's handsomely crafted essay, though more than 50 years old, stands up remarkably well when set against the current scholarship of the Atlantic slave trade. Indeed in many respects it is a prophetic article raising a number of critical issues which have formed the core of recent studies of the subject.
'The American Slave Trade' opens a complexity of historical problems, each of which remains a continuing challenge for historians of the Atlantic world in the 18th and 19th centuries (though the 'Atlantic' was not widely-accepted as a major intellectual concept among Whitridge's colleagues). It covers roughly the period after the British and Americans had abolished the slave trade in 1807-1808, through to the outbreak of the American Civil War in 1861. Indeed the most perplexing aspect of the Atlantic slave trade is the way it was brought to a close: piecemeal, in a fragmented fashion and with many vested interests still doggedly resistant and keen to continue what for them was a lucrative trade.
Whitridge's concern is with North America, though American slavers did not dominate the Atlantic trade in the way the British had in the 18th century. Even so, the American role in the 19th century trade was much more important than many recognised and the politics and diplomacy of abolition proved a fractious issue in Anglo-American relations.