Archbishop Makarios Deported from Cyprus
Richard Cavendish marks the anniversary of the deportation of an important figure in Greek Cypriot nationalist history, on March 9th, 1956.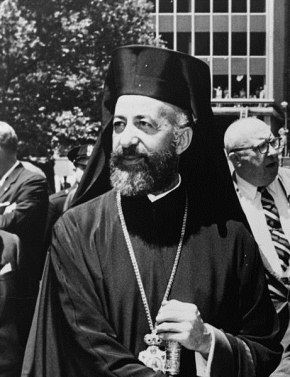 Mikhail Khristodolou Mouskos, born to a Greek Cypriot farming family in 1913, was in his mid-thirties in 1950 when he became primate of the Greek Orthodox Church of Cyprus as Archbishop Makarios III. He took a leading role in the campaign for enosis (union) with Greece. 'Cyprus is Greek,' he proclaimed. 'Cyprus has been Greek since the dawn of history and it will remain Greek.'
The island had been ruled by outside powers for centuries. Part of the Roman Empire and then the Byzantine Empire, it was later governed for three hundred years by a French crusading dynasty, the Lusignans, then seized by Venice and in the 1570s by the Ottoman Empire. The Ottomans treated the Greek Orthodox archbishops as ethnarchs, or heads, of the island's Christian population, which made them key figures in Cypriot politics. The British ran Cyprus from 1878 and annexed it in 1914.
After the war demand for enosis began to mount. There were occasional riots and Government House was burned down in 1931. The demand sharpened hostility between Greek Cypriots and the Turkish population (getting on for 20 per cent of the total), with a different language, religion and tradition. In the 1950s Archbishop Makarios brushed aside British talk of independence because he wanted union with Greece and nothing but union with Greece. In 1953 a certain Colonel Grivas started a terrorist organisation, EOKA (National Organization of Cypriot Fighters), which mounted a guerrilla war against the British.
The British believed that Archbishop Makarios was deeply involved in EOKA and deported him to 'an unknown destination', which turned out to be the Seychelles, along with a bishop, a priest and the editor of a nationalist newspaper. They were held there for a year and then, after EOKA had offered a ceasefire, allowed to leave, but not to go to Cyprus. Makarios left Mahé Island on April 6th for Madagascar on a tanker provided by Aristotle Onassis and the Greek government, and went on to Athens. He eventually returned to Cyprus, dropped or postponed his opposition to independence and in 1960 became president of the new republic of Cyprus, with a Turkish Cypriot as vice-president and a constitution intended to hold a balance between the two nationalities. It failed to work and after more years of violence and turmoil Cyprus was effectively partitioned from 1974. Makarios himself died in Nicosia three years later, a few days before his sixty-fourth birthday.