The Anglo-Irish Treaty of 1921
Michael Morrogh explains the significance of Lloyd George's answer to the Irish question.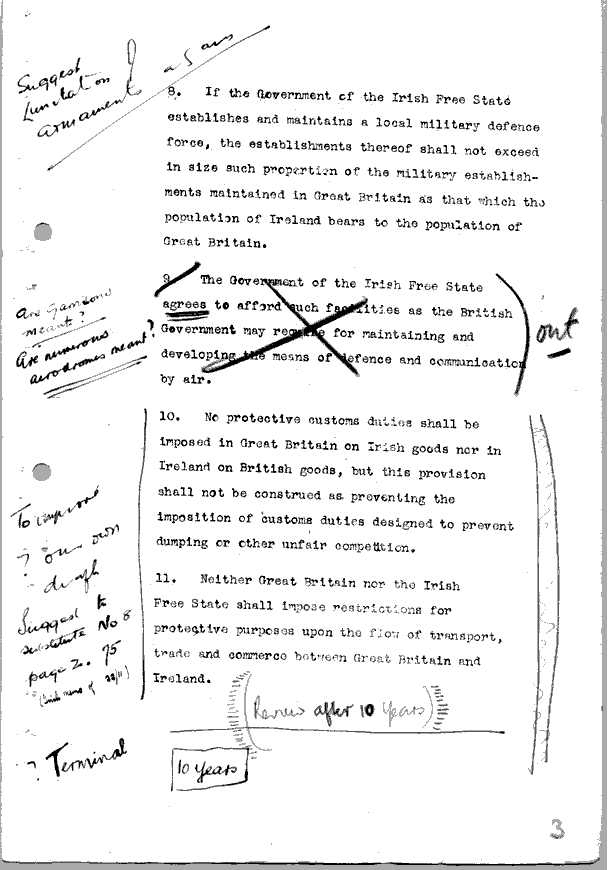 Page from a draft of the Treaty, as annotated by Arthur Griffith
The story is a familiar one. Two sides battling in out in Ireland, nationalists and Unionists. The British government uneasily in position as the sovereign power. Public opinion abroad generally is on the nationalist side, though largely ignorant of the small print of events. The British line, at first, is that the disturbances result from a small minority of 'gunmen', unrepresentative of the majority of Irishmen.
As the situation hardens, and the killings continue, the Prime Minister decides to intervene. A truce is arranged on the understanding that a meeting will be held between the government and the two combatants. Respective leaders are summoned to Number Ten in London. Objections are raised against the participation of nationalists prominent in the IRA and explicitly linked with the killings of security men and British soldiers; there is also a demand that the IRA should surrender its arms before negotiations commence. Both conditions eventually are dropped – a sensible policy since otherwise no meeting could have started. After many late night sessions, brinkmanship on both sides, the British Prime Minister in last-minute communications with the Unionists, and the Irish delegation in touch with their power bases back home – finally the treaty is signed and a settlement for Ireland produced.