Albert Schweitzer's Nobel Prize
In 1952 the Nobel peace prize was awarded to Albert Scheiwtzer for his work at a hospital in tropical Africa.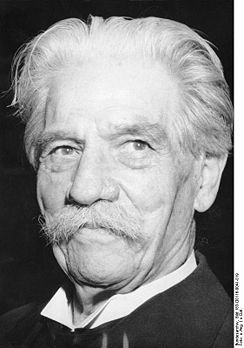 The Nobel Peace Prize for 1953 went to the author of the Marshall Plan, General George C. Marshall of the United States. At the same time, the previous year's prize, which had been held over, was awarded to Albert Schweitzer, world-famous for his work at his hospital at Lambaréné in tropical Africa. He had already appeared on the front cover of Time magazine as 'The Greatest Man in the World'.
Schweitzer was no soft-headed do-gooder, but a strong-minded, short-tempered, workaholic autocrat, who slept only four hours a night and whom people hesitated to cross. The son of a Lutheran pastor in Alsace, he was a notable organist and an authority on both Bach and Goethe as well as an academic philosopher. Deciding to be a mission doctor, he took medical training and in 1913, in his thirties, gave up his chair in religious philosophy at Strasbourg University and went to the Gabon province of French Equatorial Africa with his wife, Hélène Bresslau, who had trained specially as a nurse. They built a hospital on the Ogowé River in an area rife with malaria, dysentery, sleeping sickness, elephantiasis and leprosy. Until it was ready, the first patients were treated in a disused hen house.
The work was interrupted by the First World War, but in 1924 Schweitzer returned to Africa and built a new hospital, to which he later added a leper colony. His wife's health broke down, but he recruited other white doctors and nurses. Treatment was free, but patients would often bring a gift of eggs or poultry or whatever they could. The only vehicle the hospital possessed for years was a wheelbarrow, but its fame spread and people came from great distances, by canoe along the river or walking through the jungle and arriving exhausted and half-starved.