The Battering Ram
Roger Hudson on the circumstances behind an eviction in County Clare, Ireland, photographed in July 1888.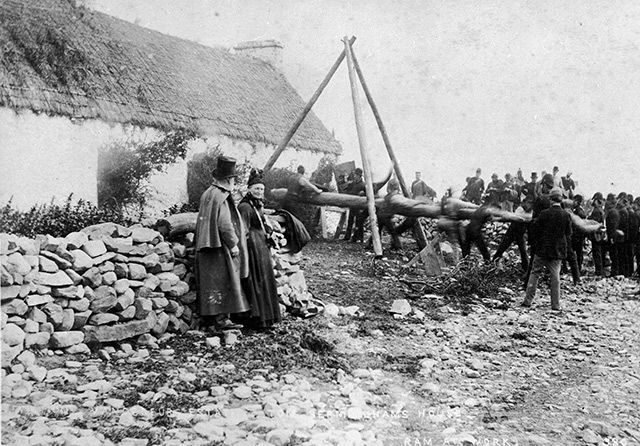 It is July 31st, 1888 and Tom Bermingham is about to be evicted from his home near Kilrush, in County Clare, Ireland, for non-payment of rent. The Law may have armed troops and police in attendance, a 30-foot battering ram shod with iron and the sub-Sheriff standing at its business end equipped with a shield, but the Plan of Campaign, the organisation of resisting tenants, has reporters who can be seen scribbling in their notebooks and Mr French with his camera recording the scene, as he has other evictions in the days before.
The background to this confrontation was the Land Question – the belief of most Irish that the bulk of the land belonged to the people and had been unjustly wrested from them in the 17th century. The Vandeleur estate, of which Bermingham was a tenant, had achieved notoriety in the famine years. A visiting English MP reckoned in 1849 that 20,000 had been evicted round Kilrush in the previous two years. But the public outcry then was muted because the tenantry was unorganised and it was lost among the horrors afflicting the whole country.
When Ireland started to fall on hard times again in the later 1870s, it was because of the agricultural depression, caused by the influx of cheap grain and meat from America, Argentina and Australia, combined with a series of bad home harvests. The Land League agitated and Gladstone responded with the 1881 Land Act, which set up tribunals to fix 'judicial' fair rents for a 15-year period. Yet the Depression worsened and by 1885 thousands were in arrears with their rents.
In 1886 Gladstone's first Home Rule Bill was defeated and there were renewed agitations among tenants, who combined under the Plan of Campaign to offer reduced rents. It was claimed that tenants on the Vandeleur estate could have paid in full but in some cases were pressured not to. Two hundred of them met in December 1886 and agreed to ask for a 25 per cent reduction on judicial rents and 40 per cent on the rest. Captain Vandeleur's agent said he had already given a reduction of 10 to 20 per cent and would give no more. For the next 18 months the two sides manoeuvred around each other until, in July 1888, Vandeleur offered to wipe out all arrears of rent up to March 1886 and to reduce judicial rents by 15 per cent and the rest by 32 per cent. Still the tenants would not compromise. Troops and armed policemen were brought into West Clare and by the month end there had been 22 evictions.
Bermingham was the last to go. On February 15th, 1889 he was in court in Ennis charged with obstructing and assaulting a policeman and the sub-Sheriff in July. Bail was refused and when he appeared in court again ten days later he got two six-month sentences, but was then granted leave to appeal and let out on bail. By now honour was felt to be satisfied, a settlement was reached and evicted tenants were allowed back. The long-term solution was the purchase by the government of land from, by now very willing, landlords. It was then sold to tenants on easy instalments: by the last Land Act of 1909, the Land Question had been answered.
If you enjoyed this article, you might like these: