Ralegh's final voyage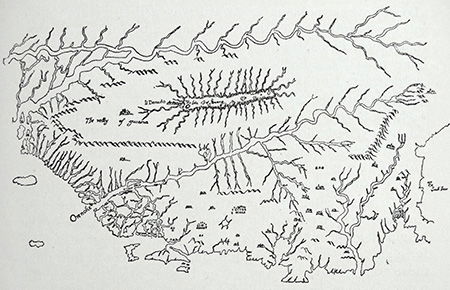 Map of Guinea, El Dorado and the Orinoco coast by Walter Ralegh, late 16th century. © Alamy
Having been a favourite of Elizabeth I, Walter Ralegh (1554-1618) found himself on the wrong side after her death and was arrested in 1603 and imprisoned for 13 years in the Tower of London for his part in the Main Plot against James I.
In 1595, during the Anglo-Spanish war, Ralegh had set out on an exploration of the Orinoco river in South America, in search of the legendary 'City of Gold', El Dorado.
The expedition was difficult: Ralegh and his men, in competition with a Spanish crew, had to build rafts to navigate the shallow waters and found themselves hacking through jungle. Despite this, they only lost two men: one guide inexplicably vanished and another crew member was eaten by a crocodile in front of his companions while taking a swim.
Sign up for Miscellanies, our free weekly email