Cutting the British Empire Down to Size
The 'British Empire' was the name given by imperialists in the late 19th century to Britain's territorial possessions. It was meant to create an image of unity and strength. But such a view is illusory, argues Bernard Porter.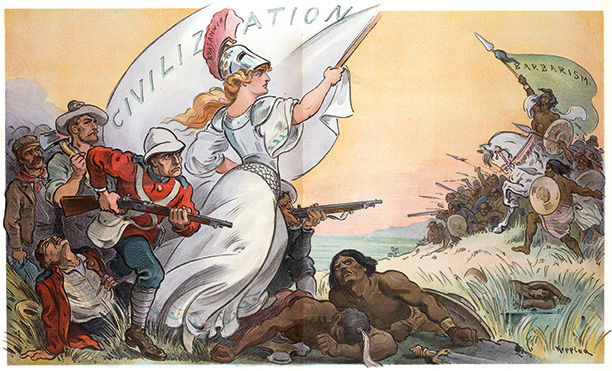 With the British Empire finally dead and buried – give or take a Falkland or two – now may be a good time to pause and try to take stock of what it was while it still had breath in it. This won't be easy. For a start, it may be too early. Historical judgements take a while to bed down. Even then they are subject to revision by successive generations, influenced by new discoveries and their own historical environments. Subjects like imperialism are complex and can be approached from many different angles. In the case of the British Empire the problem is exacerbated by the fact that its death is still too recent to be looked on dispassionately and its legacy too present to be ignored. Hence the controversy that rages today between the broadly pro-imperial Niall Ferguson (Empire: How Britain Made the Modern World, 2003) and the uncompromisingly anti-imperialist Richard Gott (Britain's Empire: Resistance, Repression and Revolt, 2011). That debate would not be so heated if the ghost of the old empire was not felt to be haunting us still.

The ghost of yet another empire lurks behind it. British imperialists often made comparisons between their empire and the much longer-dead Roman one. It was the image of this great empire, present in popular culture and in contemporary school syllabuses, much more than the British Empire ever was, that largely determined perceptions of imperialism. It was where the word 'imperial' came from: a Latin term (imperium) associated with notions of power, authority and control. It is a big, strong, singular word, implying a big, strong, singular thing. That is why British imperialists liked it. One of the issues that needs to be determined before making any assessment of the effects and legacies of the British Empire, therefore, is how big, strong and singular it really was.
This article is available to History Today online subscribers only. If you are a subscriber, please log in.
Please choose one of these options to access this article:
Call our Subscriptions department on +44 (0)20 3219 7813 for more information.
If you are logged in but still cannot access the article, please contact us
If you enjoyed this article, you might like these: