Who was responsible for one of the great surviving objects of the Middle Ages?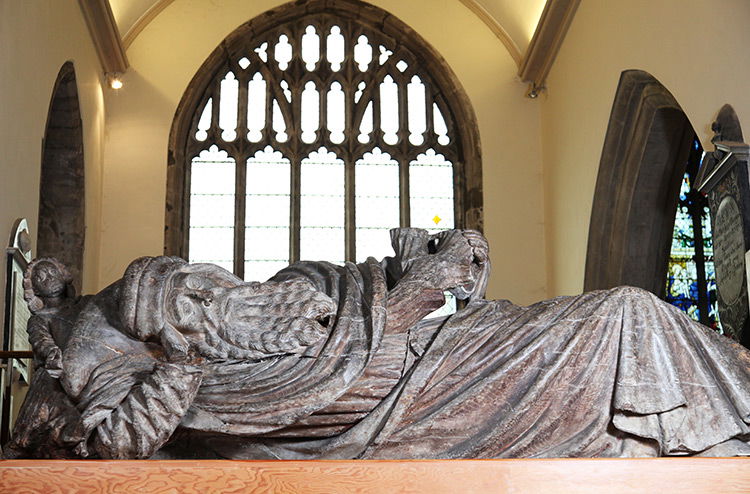 For the critic Andrew Graham-Dixon,the one 'unarguably great wooden figure' to survive the iconoclasm of the Reformation is the Jesse Tree at St Mary's Priory Church, Abergavenny. The recumbent form, carved from an oak trunk in the late 15th century, is an arresting sight, but to imagine the complete Tree spreading upwards 25 feet or more from the shoot below Jesse's breast, all brilliantly coloured, takes the breath away.
The Tree was an illustration of the ancestry of Christ. We do not know who created or commissioned it, for none of St Mary's records for this period have survived. They were probably destroyed when the town was fired in 1404 during Owain Glyndwr's revolt. Fine alabaster tombs of members of the Hastings, de Braose and Herbert families tell of powerful patronage at an earlier period. That the latter connection extended into the late 15th century is evident from lions and wyverns, both associated with the Herberts, carved on the south choir stalls. Oak carvings of a similar date offer clues to more of St Mary's patrons. A misericord carving shows a closed Tudor crown, a Tudor rose and Prince of Wales feathers. Tudor dragons appear on the choir stalls, as does the pomegranate, fertility symbol and emblem of Katherine of Aragon. Her marriage to Prince Arthur in 1501 or, after his death, the betrothal of Katherine and Prince Henry in 1502, may have prompted such decoration.
The victory of Henry VII at Bosworth in 1485, widely celebrated in Wales, may have been the stimulus for commissioning the Tree of Jesse, especially since supporters of the Tudor dynasty in North Wales were commissioning Jesse windows at the churches of St Bridget, Diserth, St Dyfnog, Llanrhaeadr and at All Saints, Gresford, where Thomas Stanley, Earl of Derby, stepfather to Henry VII, underwrote the creation of a magnificent east window, in place by 1498, on which the Tree of Jesse is represented. The motive for so doing was two-fold: it was to emphasise the donor's devotion and the importance of lineage. Stanley's wife, Margaret Beaufort, was great-great-granddaughter of Edward III and granddaughter of John of Gaunt. 
The commissioners of the Tree of Jesse would have been wealthy members of the region's nobility. Sir Charles Somerset and his wife, Elizabeth Herbert, whose marriage had been arranged by Henry VII, appear to have been well placed to finance the refurbishment and decoration of the choir stalls, but as they were not married until 1492 it is unlikely they were also patrons of the Jesse Tree, because of the length of time needed to create such a work. The half-trunk of oak would have been hollowed out and carved when still green and would not have been passed to the painter until well seasoned. The carving on the Jesse is between six and eight inches thick and Carol Galvin, who undertook its conservation in 1993, suggests that it takes around one year to season one inch of oak. For the Tree to be installed at the end of the 15th century, around 1495, it would have had to be sculpted in 1487, two years after Bosworth and a year after Jasper Tudor was made Lord of Abergavenny.
Jasper was the son of Owain Tudor, second husband of Henry V's queen, Catherine, and half-brother to Henry VI, to whose Lancastrian cause he was devoted. He and his elder brother Edmund were created earls in 1453 and made senior to all others in the kingdom. Edmund died of the plague in Carmarthen Castle, leaving his young widow, Margaret Beaufort, expecting a child. Her son, the future Henry VII, was born at Pembroke three months after Edmund's death. During the Wars of the Roses Jasper was steadfast in his commitment to Henry VI, Margaret Beaufort and her son. He was an experienced military leader but, faced by greater Yorkist forces during the wars, suffered many defeats. After the battle of Mortimer's Cross in 1461, his father, Owain, was executed in the market place at Hereford. It was not until 1485 that Henry Tudor and his uncle Jasper sailed from exile in Normandy to Milford Haven and, gathering soldiers on their way, pressed forward to meet the army of Richard III at Bosworth on August 22nd.
By December 1485, Jasper was entrusted with the task of establishing Henry's rule in Wales. He died in 1495, having been a benefactor of St Mary's. In 1493, as 'Jasper, brother and uncle of kings, Duke of Bedford and Earl of Pembroke', he granted the priory 'the whole of our forest of Moile to pasture and water their cattle in', but no evidence exists that he left a permanent memorial of his bounty within the church. Nevertheless, such was his influence, and such was the fondness of the Jesse Tree image among other supporters of Henry VII, it is difficult to think of anyone with a better claim to be commissioner of the great Jesse Tree at Abergavenny.
Muriel Adams was head of teacher education at the University of Newport.