Serial killer Smith convicted
A notorious mass murderer was sentenced to death on July 1st 1915.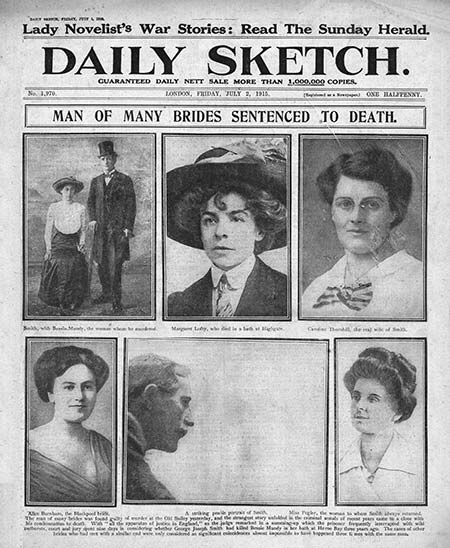 The brides and their killer: the trial reported, July 2nd, 1915.
George Joseph Smith was a vicious predator of women. He was married at least eight times. The first was legal, the rest were bigamous. A persuasive fellow of vaguely military bearing, using a succession of aliases, he stole his victims' money before moving on. He explained his frequent absences from home to the one he 'married' in 1908 by pretending to be an antiques dealer making business trips around the country. 
Smith murdered three of the women. He killed Bessie Mundy in 1912 after she had made a will in his favour. He killed Alice Burnham in 1913 after she, too, made a will in his favour, taking out life insurance with him as the beneficiary. He married Margaret Elizabeth Lofty in 1914. He took her to a doctor that evening, after she had taken out life insurance, saying she had a headache. He killed her the next day.   
In all three cases Smith took the woman to live in a town where she knew no one, told a local doctor there was something wrong with her health and was then suitably horrified and distraught when she was found drowned in the bathtub. He was caught after a report of Lofty's inquest in the News of the World was seen by Burnham's father, who spotted the similarities and informed the police. 
Smith was arrested in 1915 and sent for trial at the Old Bailey. One of the strange things about the deaths was that the women's bodies showed no sign of violence or of resistance. Bernard Spilsbury, the distinguished pathologist who gave evidence for the prosecution, suggested that Smith had pulled each victim's legs up suddenly so that her head went under the water and she quickly drowned. Smith's equally distinguished defence counsel, Edward Marshall Hall, privately thought he had used hypnotism. The jury convicted him and he was hanged at Maidstone Prison in Kent on August 13th, aged 45.