A Painter Fit for a Queen
Nicholas Hilliard was a portraitist at the pinnacle of his profession.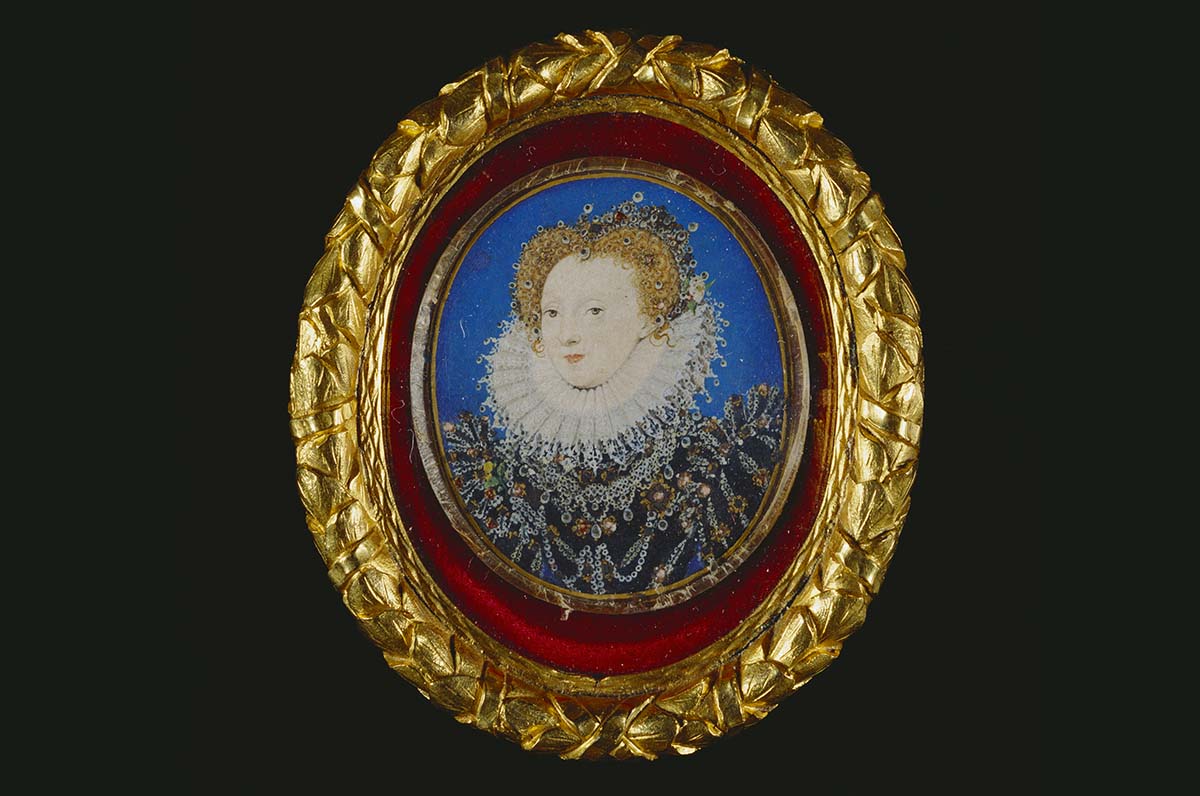 It is July 1571 and Elizabeth I is sitting for a portrait in 'the open ally of a goodly garden', almost certainly at Hampton Court. The portrait is 'in little' – what we would now call a watercolour miniature, although the latter term didn't enter English until Sir Philip Sidney introduced it from the Italian in The New Arcadia in the following decade.
The artist is Nicholas Hilliard, aged about 24, and this is the first time he will paint the queen. It is the beginning of a career that will help define the image of Elizabeth and her court for contemporaries and for posterity. It is also just two years to the month since he finished his apprenticeship, remarkably in another craft entirely: that of goldsmith. As Elizabeth Goldring says in this rich and compelling new biography, Hilliard emerged, after seven years of training, highly skilled in something that his master didn't do. And yet here he is, soon after, at the pinnacle of the portraitist's profession.
If this is a mystery that Goldring cannot ultimately answer, she nevertheless brings us closer than we have ever been to both the art and life of England's first great artist whose name we know. Nicholas Hilliard was born in Exeter, most likely in 1547, into a family of goldsmiths, the eldest of eight children. The family were devoutly Protestant in a deeply divided area of the country; soon after Hilliard was born, the Prayer Book Rebellion against Edward VI's religious policies, and the subsequent siege of Exeter, would leave some 3,000 dead.
Hilliard's mature work – those exquisite, intimate portraits – may seem far removed from the religious turmoil of his upbringing, but as Goldring shows, one of the things he may have acquired from the work of his father, Richard, was the sense of that work as a political as well as a creative and commercial act. Goldsmiths, among them Hilliard's grandfather, were active as government agents at the Dissolution, seizing relics and other precious artefacts, assessing their value and melting them down. Two of Richard's communion cups still survive: commissioned for the newly imposed Protestant rites, to make them was to make an ideological statement.
Nicholas Hilliard may have ultimately turned his back on his father's craft, but he never lost the providential sense of his own talent. He claimed to have taught himself to 'limn' – the contemporary term for what we call the painting of miniatures, a word which reflects the art's roots in manuscript illumination – by copying Dürer's drawings. The claim, Goldring says, is 'inconceivable'; but it conveys Hilliard's sense of himself as, in Goldring's words, 'a perfectionist convinced of his own God-like genius'.
As Nicholas Hilliard: Life of an Artist reveals, Hilliard's work was from the beginning embedded in Elizabethan political culture and statecraft. He was fortunate to emerge from his apprenticeship with established connections to Robert Dudley, the Earl of Leicester – England's premier art collector as well as Elizabeth's favourite. And he was fortunate to do so at a time when Dudley and Sir William Cecil (and by implication Elizabeth herself) were seeking an artist of sufficient calibre – 'a speciall conning payntor' in Dudley's words – to represent Elizabeth and her court across Europe.
The background to this, as Goldring establishes, is the courtship between Elizabeth I and the Duke of Anjou. By 1571, Catherine de' Medici had been receiving portraits of Elizabeth for the best part of a decade. None of them had met with her approval: 'Everyone tells me of her beauty … I must declare that she did not have good painters', she said. Catherine had gone so far as to offer Elizabeth one of her own painters; the condescension must have smarted, but no one denied its basis.
Hilliard's emergence changed all that. Suddenly, England had an artist who gave it stature on the international stage. His miniatures of Elizabeth had an intangible diplomatic value: when Henri IV saw one in 1596 he declared 'he would not forgoe it for any Treasure' and insisted the English ambassador surrender it to him. They had a tangible political currency, too. Leicester, campaigning in the Netherlands in 1586, asked that one of his Dutch allies be sent one: 'a picture in a tablett, which might be worth £200, would content him as much as £1000 in money'. Elizabeth used Hilliard extensively: for a monarch who ultimately remained resolutely unattainable, to be able to offer a kind of controlled, distant, yet intimate attainability must have been manna.
Hilliard's miniatures are superbly ambivalent works of art. They are private portraits offered as public, political gifts. They are private portraits often worn publicly in ornate settings for ostentatious display: Sir Francis Drake commissioned a large painting of himself wearing his of Elizabeth. And they are highly formalised portraits that often establish an intimate, informal sense of the sitter precisely because the sitter is so self-consciously posed.
It is no surprise to learn that Hilliard liked to paint ad vivem, from life, rather than work up sketches as Holbein had done. The best of them – and there are many in what is a superbly designed and produced book – spark with life, seemingly just a heartbeat away from speaking. But of course they do speak: they tell us how men and women in a highly image-conscious society wished to present themselves, the personal always deeply entwined in the political.
Nicholas Hilliard hasn't had a biographer since Mary Edmond's Hilliard and Oliver in 1983 and Goldring's will unquestionably be the authoritative work on its subject for some time to come. It builds on much recent research into Hilliard's life and working practices – such as Katherine Coombs and Alan Derbyshire's brief but transformative technical study of 2015 – to offer a detailed, richly perceptive account of an artist immersed in the political and visual culture of his era, while at the same time shaping that identity in ways that still resonate and inform today.
Nicholas Hilliard: Life of an Artist
Elizabeth Goldring
Yale
352pp £40
Mathew Lyons is the author of The Favourite: Ralegh and His Queen (Constable, 2012).