No Husband Needed – I Fly a Spitfire
The memoir of a pioneering woman pilot who delivered vital fighter aircraft and bombers around Britain during the war.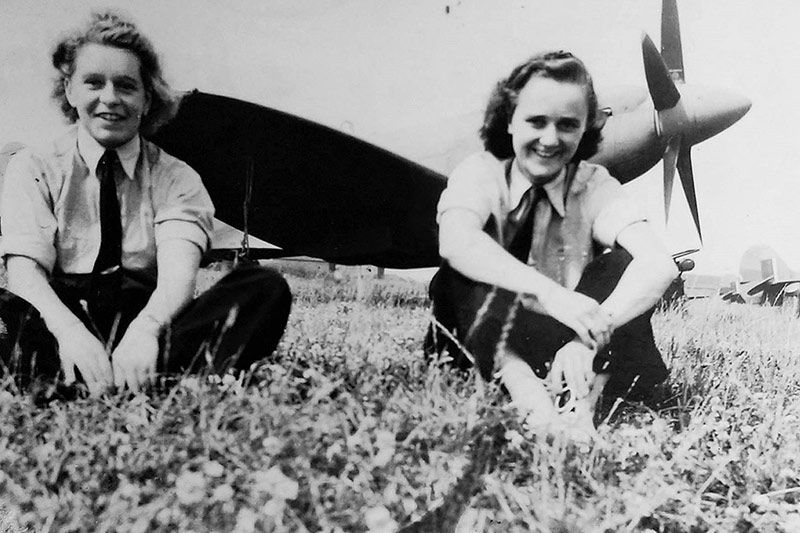 'The menace is the woman who thinks she ought to be flying in a high-speed bomber when she really has not the intelligence to scrub the floor of a hospital properly', C.G. Grey, editor of Aeroplane magazine, wrote in 1941. Clearly, he had not met Mary Ellis (née Wilkins) or her female colleagues at the Air Transport Auxiliary (ATA), ferrying much-needed planes between maintenance units and airbases. 
At first, the ATA women were restricted to flying light aircraft that 'could be fixed easily in case the girls broke them', Ellis notes scornfully. They earned 20 per cent less than their male counterparts, were expected to fly in skirts and were routinely felt up, put down or simply asked where the pilot was when they landed their machines in front of incredulous male personnel. 'I am the pilot', Ellis once fumed. By the end of the war 166 women had enrolled in the ATA, working alongside 1,152 men, on equal pay and in uniform trousers. 
After three years' training condensed into three months, Ellis was prepared to fly 140 different aircraft with resort only to her 'ever trusty Ferry Pilots Notebook' before taking off. Without radio, she relied solely on map and compass to navigate, avoiding bad weather, barrage balloons and occasional enemy fighters. Unsurprisingly there were moments of drama, but Ellis is not one to make a fuss. Yes, she once nearly collided with another Spitfire, wingtips an inch apart, and she was shot at twice in one day by anti-aircraft guns, but this was 'an attendant risk and all part of the job'. Even the entry hatch blowing open in a Wellington bomber or being 'stalked' by a Luftwaffe pilot did not faze her. Such level-headedness may make for less sensational storytelling, but it helped keep Ellis alive. Several wartime marriage proposals were ignored. Only the Spitfire made her heart sing: 'Who needs love', says Ellis, 'when there is the ultimate thrill of speed, the sky, and the orgasmic experience of piloting the best fighter aircraft in the world?'
Ellis delivered 400 Spitfires with the ATA. By the end of the war she had flown 72 different types of aircraft and in 1946 she became the second woman to fly the Meteor jet-powered fighter. She went on to race cars, run an airport and took her last Spitfire flight aged 99. Yet much of this book is about female friendships, affection for particular planes, uses for hot water bottles and not bothering with helmets. Recounted in cheerful if sensible tones, it is easy to imagine you are settled in armchairs, chatting over cups of tea. Even today, however,  it is clear that Mary Ellis would be much more comfortable in the cockpit of a Spitfire.
A Spitfire Girl: One of the World's Greatest Female Ferry Pilots Tells Her Story
Mary Ellis, as told to Melody Foreman
Frontline Books 224pp £25
Clare Mulley's new book is The Women Who Flew For Hitler (Pan Macmillan, 2017).