Justice in an Unjust World
The untold story of African-Americans' civil cases in the segregated South.
John Leonard, a white saloon-owner, came to the house of Lurena Roebuck on a May morning in 1906 while her husband was at work. Realising that the ownership of 20 acres of her land in rural Alabama was in dispute, Leonard offered to buy the contested property. Roebuck initially refused: 'I told him … that I did not want to sell it', the young African American woman recalled: 'And he said that makes no difference, he wanted to buy it.' Eventually, Leonard pressured Roebuck into taking $35. He presented her with a legal document to sign. She did so, despite being barely literate. 
Shortly afterwards, Roebuck discovered that the documents she had signed granted Leonard all 80 acres of her land, property she later testified was worth $2,400. Upon learning this, Roebuck confronted Leonard at his saloon and offered him $35 to return her land. If he refused, she told him: 'I would try the law about it.' In reply, Leonard told her 'to tell [your] lawyer to pop his whip'. 'I told him all right', Roebuck said, and 'then I left.'
Although she was a black woman in the segregated South, Lurena Roebuck clearly saw the courts as a viable option. Yet it has long been seen as largely impossible for African Americans to have successfully taken on whites in courts in the US South between the end of the Civil War in 1865 and the mid-20th century. During much of this time, black southerners experienced intense segregation, the frequent threat or experience of racially motivated violence and increasing disenfranchisement. Assuming that such cases did not exist, almost no historians have bothered to look for them.
At first glance, the courts seem an unlikely avenue of success for African Americans seeking to resolve disputes with whites in the post-Civil War US South. At a time when most white southerners believed they were racially superior to African Americans, the gatekeepers of the justice system – those making legal decisions – were usually white. Juries were also largely white until the 1890s and almost entirely white throughout the first decades of the 20th century. The judges who oversaw proceedings and decided other cases were even more likely to be white. The justice system also worked to reinforce injustice. From the moment the Civil War ended, former slaveholders' desire to maintain power, state and local officials' quest for profits and white southerners' fear and racism yielded a criminal justice system that handed down vastly unequal sentences for people of colour and incarcerated millions of black southerners. In the last decades of the 19th century and the beginning of the 20th century, decisions of southern state courts and the United States Supreme Court also enabled large-scale segregation and disenfranchisement to move forward. Finally, as a result of their disenfranchisement, black southerners were, by the end of the 19th century, almost completely shut out of participating in other institutions of government.
Black and white southerners
Yet Lurena Roebuck was far from alone in turning to the courts. Across eight southern states from 1865 to 1950, almost 1,000 civil cases took place in which black litigants opposed local whites. All these cases eventually reached the highest court of their state; undoubtedly many more occurred that never got beyond local courts. Often, these cases were intensely personal. During the three and a half decades after the end of the Civil War, one third of them took place between former slaves and their former masters or the heirs of former slaves and former masters. As men and women who had been enslaved faced off against the people who had enslaved them, they brought their long histories into the courtroom. When Abner Lattimore took his former master Thomas Dixon to court in 1868 over the issue of trading as a slave before the Civil War, for instance, Lattimore and Dixon's interactions in the years before the conflict played just as important a part in the case as their dispute after the war. In other cases, black and white neighbours took disputes to court, sharecroppers participated in suits against white landowners, black employees challenged their employers and black men and women initiated litigation against their city authorities. In a world dominated by white men, black women made up 41 per cent of litigants.
Black litigants not only found ways to negotiate the legal system in a society in which they faced enormous constraints, but, remarkably, also won the majority of their cases: 59 per cent of the suits against whites in the highest courts of eight southern states between 1865 and 1950. In a significant number of these cases, the litigants also won their suits in local county courts. So how did black litigants in a highly racist society succeed in cases against whites?
Common law
The answer lies partly in the structure of the US legal system and the kinds of cases that black southerners litigated. The US legal system is a common law system in which precedent plays a powerful role. Most of the civil cases in which black litigants took on whites contested such prosaic matters as issues of property, wills and trusts, contracts, transactions and personal injury. They were often the same types of cases that whites brought against each other and there were frequently powerful precedents that influenced the decisions of judge and jury. But this is only part of the story. There were also precedents governing how criminal cases should be decided; but again and again, judges and juries gave black defendants in criminal cases vastly different sentences than white ones.
Another factor was whites' perception of the danger of these cases. The disenfranchisement of black men in the South took place in large part because of the threat that the black vote posed to many white southerners. However, the kinds of civil cases successfully litigated by black southerners seemed, on the whole, relatively harmless to the white authorities. Unlike voting – in which individuals directly influenced electoral outcomes – the legal system was mediated through a series of mainly white gatekeepers (lawyers, judges and jury members), who many white southerners assumed would make decisions that would benefit other whites. Moreover, in the cases that reached the highest courts, black litigants and their lawyers often framed their cases as impacting only on individuals rather than African Americans as a whole. Lurena Roebuck's suit would only affect whether or not she kept her own land. Abner Lattimore's suit involved only the ownership of approximately $1,000 in promissory notes. Only a few white individuals – the litigants in the case – would be inconvenienced or lose money or property if a black person won the case.
White interests
Whites perceived civil cases as different from criminal ones. In criminal cases it seemed to many white southerners that it was in their interest to let unequal justice reign. White southerners had long thought of African Americans as inclined naturally towards crime and saw criminal law as one of the few tools they had to control such tendencies. The criminal justice system also played a major role in regulating the southern labour market and black convicts made huge sums of money for southern states and local law enforcement. In civil cases, however, the interests of whites were more complicated. There seemed to be benefits to whites in letting civil cases go forward. The dependence on precedents and formal procedures, which allowed black litigants to sometimes prevail in civil suits, gave the courts a misleading guise of impartiality. If ordinary citizens believed they were able to gain justice in the courts, they might be reluctant to take part in social unrest. In other cases – such as when black southerners brought civil suits about dangerous conditions on public transportation or in their workplaces – favourable judgments for the injured party benefited white citizens as well. Such cases could even reinforce white supremacy. In order to win them, black litigants sometimes played into white stereotypes, presenting themselves as less educated or more trusting of whites than they actually were. In one Kentucky case from 1881, an elderly black litigant, Minta Simmons, testified that she remained with her former master 'from the time she was freed to his death and performed her duties faithfully'. Because these civil cases made up only a small proportion of overall suits, the benefits of allowing black litigants to gain favourable decisions at times outweighed any losses to individual whites.
High stakes
Whereas whites generally saw these cases as relatively harmless, or even as reinforcing white supremacy to their benefit, black southerners realised the enormous financial repercussions they might have on their lives. A case could determine whether or not they would be able to hold on to their land, receive a year's wages, obtain funds after being injured on the job or receive a bequest in a will. As a result, in the civil cases that reached the highest courts, black litigants did everything in their power to win their suits. Despite usually having no legal background and limited education (a number of litigants signed their names with an 'X'), they worked alongside their lawyers to adapt and at times make a biased system work for them.
The first step was to find a white lawyer to represent them. During this period, only a tiny percentage of lawyers in the southern states was black. In criminal cases in local courts, black litigants sometimes used black lawyers, but in the civil cases against whites that succeeded in reaching the southern states' highest courts, black litigants almost always chose to go with white lawyers. They seem to have believed – correctly – that their civil suits would have a greater chance of success with a white lawyer. In contrast to criminal suits, white lawyers were far more willing to represent them in civil suits. Lurena Roebuck, for one, consulted a local white lawyer, 36-year-old William K. Terry, shortly after her sale of land to John Leonard. Terry had worked as a general practice lawyer in the Birmingham area of Alabama for 16 years. Roebuck's uncle had contacted him on her behalf several years before. Upon hearing her problem, Terry examined the deed and confirmed to Roebuck that the documents she had signed granted Leonard all 80 acres of her land. Terry then set the legal challenge in motion, filing a suit to set the deed aside.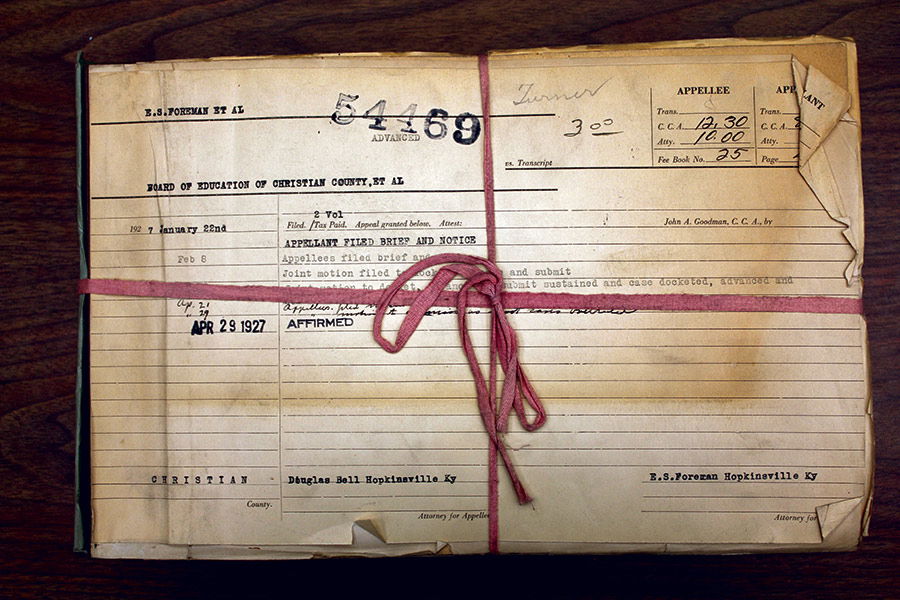 A case file from Kentucky, 1927.
White lawyers such as Terry did not usually take on these cases because they believed in African-American rights; indeed, in the decades after the Civil War, many white lawyers were practising who had served as officers in the Confederate army. Yet in the kinds of civil cases that reached these courts, there seems to have been little stigma attached to white lawyers who represented black clients. If anything, taking on black clients in civil cases seemed a paternal endeavour, demonstrating a willingness to help the less educated and privileged. Most importantly, civil cases against often wealthy opponents held the promise of financial rewards for lawyers, who would frequently be paid a portion of the overall award if their client won. William Walker's 1880 Georgia case over his former master's will, for example, contested the ownership of almost $40,000, while Mary Ray's 1892 North Carolina suit laid claim to ownership of the land on which both the county courthouse and jail were situated. If Walker or Ray won, their lawyers would obtain a portion of these funds or the value of the land.
While employing white lawyers increased a client's chance of success, their involvement limited the content and arguments of the suits. Black litigants tended to pursue only those cases in which white lawyers were willing to represent them – and which they believed they could win.
Masters and slaves
In addition to using white lawyers, black litigants often attempted to draw on connections with local whites to strengthen their case. Some based their suits around white testators' wills, thus aligning their own claims with the right of a white person to leave their property to whomever they desired.Additionally, white witnesses often testified for black litigants in cases that reached the highest courts. At times, these witnesses had long-term connections with the black litigants, which may have played a part in their decision to testify. For example, in the 1879 and 1880 cases of Victoria Monroe, the daughter of a white master and his slave, her white half-brother testified on her behalf. Other white witnesses had had business transactions with the black litigants, had lived next to them for years or had served as their doctors or employers. However, as the South became more and more segregated, fewer white witnesses would know the black litigant. In Lurena Roebuck's case, Jack Brown, the deputy sheriff, does not seem to have known Roebuck when he testified on her behalf that the land in question was worth $20 per acre. In other cases, whites who testified for black litigants had economic motivations for doing so. One of Roebuck's white neighbours, Mrs A.J. Wideman, bolstered her black neighbour's case by testifying that the land was worth far more than Leonard had paid for it. Wideman, however, was disputing the ownership of a portion of Roebuck's land herself and seems to have testified to defend her own claim.
Negotiating the system
African Americans often had little formal knowledge of the legal system, but during the 19th and early 20th centuries black southerners lived in communities saturated with law. Community members frequently took each other to court, talked about local and national cases and read accounts in newspapers, and elsewhere, of trials. Case files hint, too, that black litigants gained some knowledge of the law from coaching and conversations with lawyers. Additionally, some black litigants entered additional legal contests armed with knowledge they had gained in their past experiences with the law. Clearly, not all black litigants had even an informal knowledge of the law. But most black southerners did have a keen understanding of southern race relations. They spent their lives negotiating the careful balance of race relations in the South and understood what whites deciding their cases wanted to hear.
As black litigants negotiated the southern legal system and, in many cases, testified in the courtroom, they put their knowledge of the law and southern race relations to work. In a number of suits, African-American litigants shaped their testimony to help strengthen the legal claims set out by their lawyers. They provided evidence to strengthen claims to bequests, worked to show that cases met the terms of a personal injury suit and framed testimony around contracts to reinforce suits. After being injured by a train, for instance, Elizabeth Franklin initiated a personal injury suit against the railroad company. Realising that her legal claims would be stronger if she showed that she was unable to work despite attempts to do so, Franklin testified: 'I remember once that I went out and tried to wash the dishes and standing on my feet I suppose hurt me … My left ovary was bad and hurt so I had to go home and lie down.'
Difficult terrain
At the same time, black litigants navigated the difficult racial terrain as it changed over time. During the three decades after Reconstruction, black litigants were often able to assert their rights in bold terms and litigated a variety of different civil suits against whites. In 1870, for instance, the white owner of the land farmed by a Georgia sharecropper Moses Summerlin tried to pay only half the amount he owed and threatened to kill Summerlin if he pressed the matter. Summerlin initiated a civil case against the landowner and testified to the court about the white man's threat of violence. As disenfranchisement and formalised segregation set in around the South at the end of the 19th century, however, the kinds of civil suits that black southerners were able to litigate against whites narrowed and black litigants increasingly worked to appeal to the racial ideologies of white southerners in their suits and testimony. Even as they did so, the cases became an implicit assertion of their rights, which were extended over time. In 1926, for example, a group of black barbers challenged an ordinance passed by the city of Atlanta limiting the hours that black-owned barbershops could operate and whose hair they could cut.
Roebuck's case took place in the first decade of the 20th century – a time when the constraints on African-American civil litigants were at their greatest. Following her lawyer's lead, Roebuck sought to strengthen the legal claims of her fraud case and appeal to white jury members. A legal claim of fraud was stronger if the two parties had been manifestly unequal in their ability to enter into the transaction. Thus, characterising her reading and writing abilities as 'not much', she told the court: 'I have never had any experience in business affairs … This is the only transaction of land I have ever had.' In addition to strengthening her case's basis in the law, such testimony emphasised the differences in her own understanding and that of the white man who had defrauded her at a time when African Americans had just been disenfranchised and segregated. However, her testimony revealed an understanding of how to win a fraud case against a white southerner. Moreover, even as Roebuck's words said one thing, her actions said another. By standing up to a white southerner and taking him to court over fraud, Roebuck asserted her right to fair economic dealings as well as her right to participate in legal action.
Limits and significance
In the end, the strategy employed by Roebuck and her lawyer proved successful. In the case's initial trial, the county court judge ruled in favour of Roebuck and cancelled the deed. When Leonard appealed, the Alabama Supreme Court also sided with Roebuck. She regained her land and would continue to live in the home for which she had fought for at least another 13 years. The appeal court's opinion helps to reveal why the court sided with an African-American woman over a white man. The court ruling sets out the disparities between the two litigants: 'We have, then, an unlettered, ignorant woman, 22 years old, who owned 80 acres of land, who was sought out by a man experienced in affairs, and a real estate dealer.' Roebuck and her lawyer, William Terry, had sold their story well. As it ruled in her favour, however, the court used Roebuck's version of events to emphasise the inequality between the two parties of different races. In a number of other civil cases between 1865 and 1950, black litigants were able to boldly assert their equality and still won their suits more often than not. Even in these other cases, though, black litigants encountered some limitations in the courts.
In the end, to operate within the southern court system between 1865 and 1950, black litigants generally had to work within white rules, draw on white witnesses and make their arguments through white lawyers. At times, black litigants had to portray themselves in certain ways to win whites' sympathy. For the most part they won cases when they could persuade whites that a case would not have a wider effect on society or that it was in whites' broader interest to rule in their favour. Moreover, even when white juries and judges ruled in favour of individual African Americans, their cases did not stem the violence, segregation and disfranchisement that took place throughout the South.
Successful outcomes
Despite these limitations, the civil suits litigated by black southerners are more radical – and more important – than they might at first appear. At a time of racial terror and segregation, some individual black southerners defended their rights against the actions of white members of their communities. The successful outcomes of many of the cases had important economic effects on the lives of individual African Americans. Even when black litigants lost their suits, they had still gained legal knowledge and exercised the rights of citizens. Just as importantly, after having been excluded by Jim Crow laws from many other government institutions, some black southerners were able to negotiate – and were able to win cases within – the last remaining southern political institution that they had access to. By continuing to litigate these cases, African Americans in the South maintained some of their legal rights even after they had lost many others. Through this litigation, too, they learned how to work within white-dominated institutions in ways that they would continue to exploit during the Civil Rights movement of the mid 20th century. Finally, these cases illuminate a history in which black southerners continuously exercised their rights as US citizens through some of the most difficult years of southern history by pragmatically shaping and shifting their cases as American society changed. They show the ways in which everyday individuals could take on a biased system – and, at times, win.
Melissa Milewski is a lecturer in History and American Studies at the University of Sussex and the author of Litigating Across the Color Line: Civil Cases Between Black and White Southerners from the End of Slavery to Civil Rights (Oxford University Press, 2018).