The concerns of a Sardinian abbess, as seen through the letters of Gregory the Great.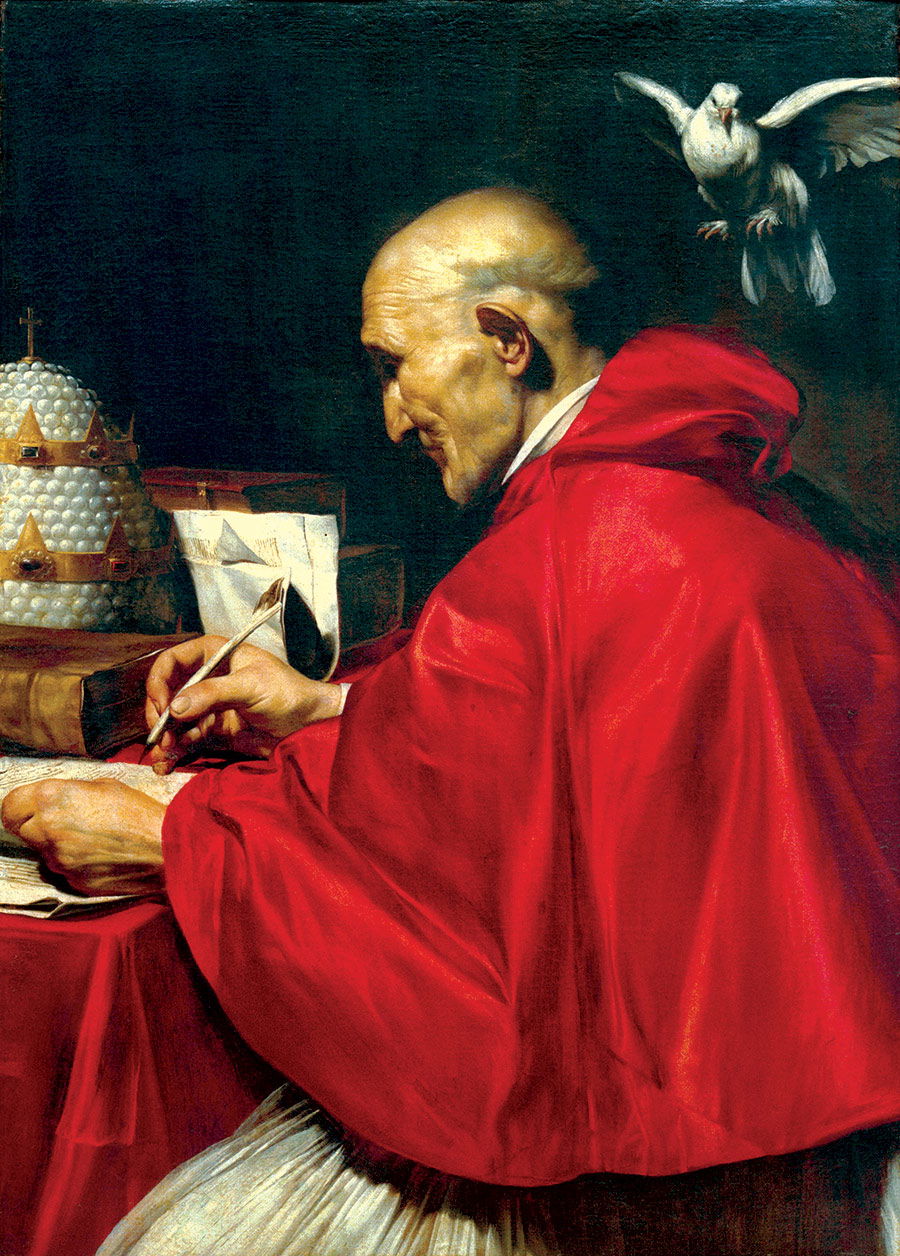 In AD 534, the Emperor Justinian incorporated Sardinia into the Byzantine Empire. The best source for the lives of women, particularly religious ones, from this period is contained in the extensive cache of letters of Pope Gregory I (the Great; 540-604), which now survive in the medieval manuscript Registrum epistularum. Gregory's letters show his special connection with, and concern for, women, capturing their lives and their problems.
Among the surviving 41 letters written to Sardinia between 590 and 604, 11 are about women's disputes and attempts to resolve them. Among these women were four abbesses: Pomponiana, Juliana, Gavina and Desiderata, the nun Theodosia, who had problems building a monastery, Catella, a religious woman beset by men, and a nun corrupted by a wicked man. Gregory also wrote about Sardinia to the Empress Constantina Augusta (560-605), daughter of Emperor Tiberius and wife of his successor Maurice, who had special oversight of its government, in particular its taxation and the appointment of its judges.
One of the most prominent figures to emerge from these letters is Pomponiana, a litigious, prickly, devout and determined abbess. Five of Gregory's letters are related to her in some way.
Born into a senatorial family of Caralis (Cagliari), Pomponiana had established a convent in her house. She had a daughter called Matrona, married to a church reader, Epiphanius. In Gregory's first letter, written in June 591 to Theodorus, Byzantine Dux of Sardinia, he explained that Pomponiana complained that Epiphanius' mother contested his will, so that his wishes concerning his property could not take effect. Gregory exhorted Theodorus to arbitrate the dispute – to 'lend yourself willingly' and 'order that whatever these persons have a rightful claim to be secured to them'.
It may be that Theodorus failed to help Pomponiana; perhaps she was difficult to help, or she simply had more than one problem. In July 591 Gregory wrote to Januarius, Bishop of Caralis, on her behalf, once again suggesting arbitration. This time Pomponiana had 'represented to us through one of her people that she endures many grievances continually and unreasonably from certain men, and on this account has petitioned us to commend her in our letters to you'. He ends: 'But if it should happen that she has any suits, let the matter of dispute be debated before chosen arbitrators, and whatsoever shall be decided, let it be so carried into effect quietly through your assistance.'
It seems that Januarius, too, failed to satisfy Pomponiana and, indeed, had questions concerning accusations of both Pomponiana and the nun Theodosia, because in May 593 Gregory wrote and invited the two women to Rome to discuss 'their claims'.
For seven years there was nothing obvious concerning Pomponiana to bother Gregory. But in October 600 he wrote again to Januarius, attempting not only to deal with her complaint but also to untangle the complicated details of it. It transpired that Januarius had forbidden a monastery to be built on the property of her dead son-in-law, Epiphanius, as stipulated in his will, because it would have been next door to her convent, St Hermas. That had seemed right at the time, for obvious reasons – 'snares of the old enemy' (sexual relations between monks and nuns). But Pomponiana now wanted to remove the nuns from her convent, to return them to their former convents and to establish in her house a community of monks instead. So, Gregory wrote, 'it is necessary that if this has been completed, then the disposition of the deceased should be adhered to fully'. That is, according to Epiphanius' will.
There was even more to the saga, but Gregory ended:
And let your Fraternity arrange all of this together with the defender [guardian], Vitalis, and take care to settle it so usefully that you can be rewarded as much for your laudable prohibition as for your good arrangement.
By 603, Bishop Januarius, who had received at least 26 letters from the pope, was too sick and old to take Mass. Gregory wrote, therefore, to the defender Vitalis about his continuing Sardinian concerns, which included the failing Januarius. From this letter it also transpired that there were two men called Epiphanius: 'And so, since [Januarius] is in such a state that he could not be fit to make any arrangement, strictly warn that the steward of that church and Epiphanius, the archpriest, through our authority, to set about arranging.'
In that last letter mentioning Pomponiana's concerns, Gregory told Vitalis that she 'must be treated with tactfulness rather than with strictness. Your Experientia [a title, meaning 'you with your experience'] must be keen to handle that woman with charm'. Having flattered Vitalis, Gregory sternly informed him that Pomponiana:
Has complained to us that your Experientia, together with our most reverend brother and fellow-bishop Januarius, have unjustly taken away the inheritance of her late son-in-law, Epiphanius, in which he had appointed his wife Matrona, daughter of the aforesaid Pomponiana, as its usufructuary … So far no income from this has benefitted either her daughter or the convent … If that is true, or you know that you have done something improperly, without any delay, restore what you took away, or certainly, if you think that it is not so, in case the opposite party should appear to be prejudicially oppressed, do not in any way put off submitting the decision of the matter to the chosen ones so that ... it may be declared whether her complaint is true.
There is something unsatisfactory about leaving Pomponiana's affairs there; nevertheless, these five letters show not only how hard the pope tried to resolve her cases for her, but hint at the power of an abbess, well-connected or not, in the early days of the establishment of the Christian church in Sardinia – a power confirmed by Gregory's letters concerning other abbesses.
Susanna Hoe is the author, with Derek Roebuck, of Women in Disputes: A History of European Women in Mediation and Arbitration (HOLO, 2018). Her next book is Sardinia: Women, History, Books and Places (due 2019).