The actress behind the Spirit of Ecstasy, the mascot on every Rolls-Royce, and other women who have inspired famous emblems.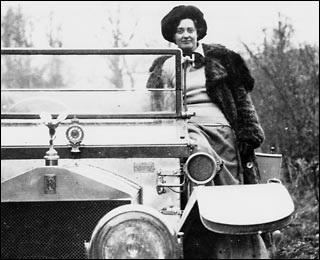 In February 1911, the artist Charles Sykes presented Rolls-Royce with the sculpture of a flying lady that would go on to become its mascot, the Spirit of Ecstasy. The managing director, Claude Johnson, had commissioned the mascot after owners began fixing 'inappropriate' ornaments to their motor cars. Sykes chose to model his sculpture on actress Eleanor Thornton, the mistress of his friend the 2nd Lord Montagu of Beaulieu, motoring pioneer and editor of Car Illustrated Magazine.
Other women who have provided inspiration for famous emblems include:
- Isabella Eugenie Boyer (1841-1904), wife of sewing machine magnate Isaac Singer, who lived at Oldway Mansion in Paignton, Devon. She later remarried and became Duchess of Camposelice. Born in Paris of English and French parents, Isabella was considered one of the most beautiful women in the world at the time and was said to have been chosen by the sculptor Bartholdi, after they met in Paris, as the model for the Statue of Liberty.
- Frances Stuart, Duchess of Richmond (1647-1702), known as 'La Belle Stuart', Maid of Honour to Charles II's queen, Catherine of Braganza. When Charles decided to have some medals struck to celebrate his naval victories over the Dutch he chose Stuart to pose as Britannia, who would adorn the medals. As such, she appeared on British coins for over 300 years, making her last appearance in 2008 on the reverse of the 50 pence coin.
- Sister Dora (Dorothy Wyndlow Pattison, 1832-78), who worked as a nurse in Walsall, Staffordshire all her adult life. Her courage, hard work and devotion inspired the local populace to raise a statue of her in the town centre in 1886, the first public statue of a non-royal woman in Britain.
- Actors Brigitte Bardot and Catherine Deneuve, singer Mireille Mathieu, models Ines de la Fressange, Laetitia Casta and chat-show host Evelyne Thomas, all of whom, since 1969, have been chosen at one time or another as the model for the previously anonymous Marianne, the national emblem of France.
From The Archive:
The origins of the famous company.