Master mariner or dedicated amateur? Helen Wallis examines the state of geographical knowledge when Columbus set sail, and outlines his use of it.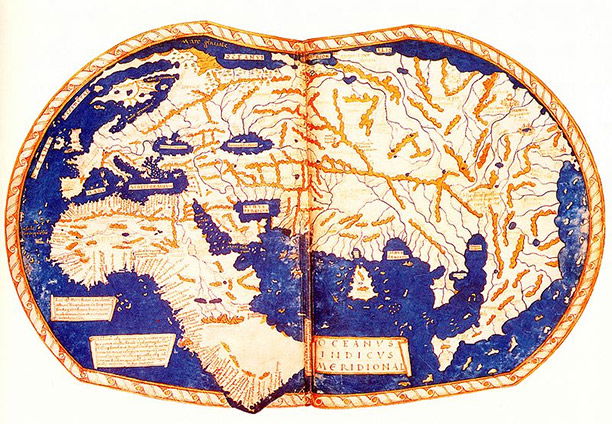 'History knows of no man who ever did the like' claimed the epitaph over the tomb of Christopher Columbus in the cathedral at Seville. In the simplest terms his aim was described as 'Buscar el Levante por el Ponente': to seek the East by way of the West. Columbus was not the first to consider the possibility of finding lands across the Atlantic Ocean. His originality lay in the conviction that there was a navigable western route to Asia and his determination to prove the route by sailing it. Unlike the contemporary Portuguese explorers, Bartolomeu Dias and Vasco da Gama, he was not one in a succession of navigators pursuing an agreed and long-term aim. He was not a merchant adventurer working with associates such as the armateurs of Dieppe. He was on his own, self taught, with a mystical belief in his destiny.
What Columbus knew and how he came to devise his project are therefore questions of universal interest which have been pondered over by historians through the centuries. The eulogistic and controversial biography of Christopher by his younger son Fernando, the Historie del S.D. Fernando Colombo, was published in an Italian translation from a Spanish original in Venice in 1571, more than thirty years after Fernando's death in 1539. Although a compilation marred by later insertions, this work gives many clues to Columbus' motives.