The wedding of Princess Matilda
The granddaughter of William the Conqueror was married on January 7th, 1114.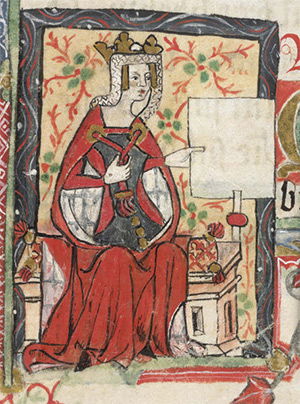 Granddaughter of William the Conqueror, daughter of Henry I and the future mother of Henry II, Matilda was born in England in 1102. On her mother's side she was the grandchild of Malcolm III of Scots and St Margaret of Scotland, who was descended from the Anglo-Saxon kings of England. She proved to be a strong character. She would need to be.
As a small child she would have seen little of her father and was probably educated in her mother's circle. When she was seven her father arranged for her to marry the Holy Roman Emperor, Henry V, who was in his twenties. In 1110 at the age of eight, accompanied by imperial envoys, a massive dowry in silver and a group of English nobles and clergy, she was escorted across the Channel to Boulogne and on to Liège where the little girl met her husband-to-be for the first time. According to the chronicler Orderic Vitalis, he sent Matilda's English party straight back to England, not wanting to have to pay for them. He and Matilda proceeded on to Utrecht for a formal ceremony of betrothal. A few weeks later she was crowned at Mainz and Archbishop Bruno of Trier was appointed her guardian. She went to Trier with him to start learning the German language and German ways.
In January 1114, with her 12th birthday approaching, Matilda was married to the emperor at Worms in a ceremony of glittering magnificence, attended by such a throng of noblemen, archbishops and senior clergy that it was reported that even the oldest person present could not remember ever having seen or even heard of such a huge assembly of great persons. Matilda's biographer Marjorie Chibnall commented that: 'As far as worldly pomp and ceremony went, the remainder of Matilda's long life must have been something of an anticlimax.' 
Emperor Henry, who had forced his father to abdicate in 1105, was involved in perpetual conflicts with the papacy and with rebels in Germany as well as in military campaigns in Hungary and Poland. In time he came to rely on his young wife to handle matters efficiently when he was away. He must have hoped she would bear him an heir, but the couple had no children in their 11 years of marriage, or certainly none that lived.
In 1116 Henry took Matilda with him to Italy, where he hoped to reach an accommodation with Pope Paschal II. Crossing the Alps by the St Bernard Pass, they went on through Tuscany to Rome, but the pope hastily fled. Henry and Matilda were eventually crowned in 1117 in St Peter's church by the excommunicated Archbishop of Braga (the future antipope Gregory VII).
The emperor died in 1125, leaving Matilda a widow at 23. There had been a startling development in 1120 when her younger brother William was drowned in the White Ship disaster, which left Matilda, as their father's only legitimate child, the heir to England and Normandy. In the male-dominated world of the time it was rare for a woman to succeed to a kingdom, but Henry I was determined that Matilda should. He brought her back to England and several times made his leading magnates swear allegiance to her. One of those who took the oath was Henry's nephew, Stephen of Blois, who through his mother was a grandson of William the Conqueror. In 1128 Henry arranged Matilda's marriage to Geoffrey Plantagenet, heir to the Count of Anjou. It was far from a happy union, but their eldest son, the future Henry II of England, was born in 1133.
When Henry I died in Normandy of a surfeit of lampreys in 1135, Matilda was in Anjou. Stephen of Blois hurried to claim the throne as the nearest male heir and was promptly crowned by the Archbishop of Canterbury. The result was years of anarchy and civil war between the supporters of the rival claimants, with Matilda's party led by Robert, Earl of Gloucester, one of her father's numerous bastards and so her half-brother.
Early in 1141 it seemed that the Lady of the English, as she called herself, had triumphed when Stephen was captured in battle, but only a few months later London turned against her and Stephen had to be freed and exchanged for Robert of Gloucester, who had been captured in his turn. Matilda was besieged in Oxford and only managed to escape by walking across the snow-covered landscape cloaked in white.
The victor in the end was Matilda's immensely able son Henry Plantagenet, or Henry FitzEmpress. After the death of Stephen's son and heir Henry got Stephen to accept him as his successor and following Stephen's death in 1154 to general relief duly became ruler of England and Normandy and one of the most formidable kings in English history. Matilda spent her final years in Normandy. She died in 1167 near Rouen at the age of 65 and was buried in a nearby abbey. Her tomb inscription hailed her as 'Great by birth, greater by marriage, greatest in her offspring, here lies the daughter, wife, and mother of Henry.'