Will the new super-casinos bring about the demise of the commercial bingo hall? Carolyn Downs traces the history of the game back to the eighteenth century and finds that then – as now – it had a strong attraction for women gamblers.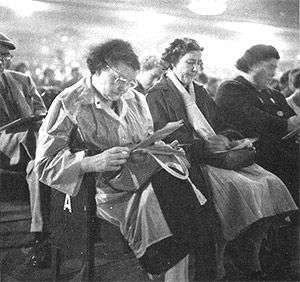 It must have seemed a good idea that the present Labour government should mark its second term by reforming gambling and alcohol laws. Social legislation is notoriously expensive, but this move would allow the government to show its liberal modernizing tendencies whilst increasing revenue to the Exchequer. The government could not have expected to arouse moral outrage of such dimensions that massive concessions were needed to get the Gambling Act (2005) through Parliament. Media coverage has almost entirely centred on the super-casinos the act will bring into being; it has been generally overlooked that the new legislation, and the concurrent smoking ban, will almost certainly change commercial bingo.
Since 1961, the public face of commercial gambling in Britain has largely been filled by bingo. The names Mecca and Gala are synonymous with hushed, smoke-filled halls in which large numbers of people, mainly women, wait for their number to come up. However, according to the final report of the Royal Commission on Gambling (1978), 'Gambling legislation has had a chequered and unhappy history'; the birth of commercial bingo in 1961, the unintended child of the Betting and Gaming Act (1960), also caused enormous moral panic as leisure entrepreneurs were accused of enticing women into gambling.