Travels Through Time #9 – Moon Landing, 1969
In this episode we travel back 50 years to 1969 and the Apollo 11 moon landing. Kassia St Clair discusses the intriguing story behind the space suits, quiet wonders of technology made using traditional techniques.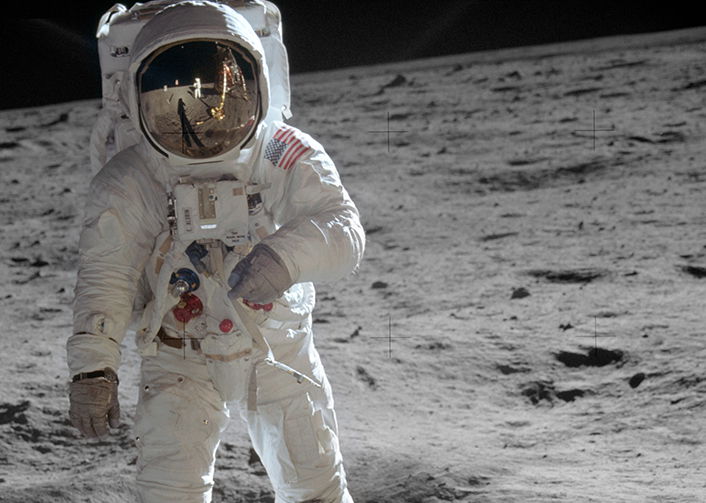 Millions of Britons stayed up through the night of 20/21 July 1969 to experience one of the 20th century's landmark moments. They watched on their television sets, part of a global audience of 528 million, as Neil Armstrong edged down a ladder from the lunar module to become the first human to set foot on the moon. It was a definitive moment in the history of humankind and, for those watching, it became a shared experience like few others.
This latest episode of Travels Through Time begins at the moment Armstrong's foot presses down onto the powdery surface of the moon. Most people have a vivid image of the scene: the grey lunar surface, the total blackness of space, the white lights and the fluttering Stars and Stripes. But what about the space suits that enabled Neil Armstrong and Buzz Aldrin to survive in such a hostile environment? In three scenes the writer and cultural historian Kassia St Clair takes us from that moment of success back to the JFK Space Centre and a sewing room floor in Delaware.
Travels Through Time. Tailored tours of the past. 
Travels Through Time is presented by bestselling historian, Peter Moore. In each episode we are joined by an expert guest, to journey to the time and place of their choice. Enjoy a ringside view of history as never before, with the action described by those who understand it best. Browse other episodes in this series here.
How to listen
You can listen to Travels Through Time here on our site in the player above, or on iTunes, Spotify, Podbean and Acast. There is also an RSS feed.
Further reading: related articles from the History Today archive
Above and Beyond: The Apollo Space Race to the Moon
André Balogh
In 1969 men set foot on the Moon for the first time. The Apollo space programme that put them there was the product of an age of optimism and daring very different from our own, argues André Balogh.
Shopping in Georgian London
Serena Dyer
The world of shopping in Georgian London offered an array of retail experiences for women in pursuit of the ultimate in fashionable clothing, every bit as sophisticated as those open to the 21st-century shopper.
Renaissance Fashion: The Birth of Power Dressing
Ulinka Rublack
At what point did it begin to matter what you wore? Ulinka Rublack looks at why the Renaissance was a turning point in people's attitudes to clothes and their appearance.