Travels Through Time #12 – Daisy Dunn, AD 79
This episode takes us back to AD 79, where we join Pliny the Younger as he witnesses one of the ancient world's most shocking events: the eruption of Mount Vesuvius.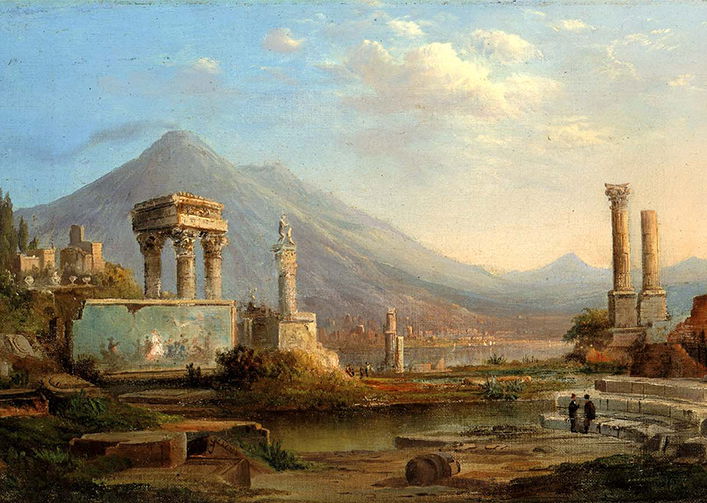 Author and classicist Daisy Dunn introduces us to Pliny the Elder and Pliny the Younger; two characters whose lives reveal so much about ancient Rome.
Early one afternoon in the year AD 79, a 17-year-old Pliny the Younger looked out from the window of his villa across the Bay of Naples. He saw a great cloud, 'both strange and enormous in appearance', rising from the top of a hill over the landscape of Campania. He was about to witness the eruption of Mount Vesuvius.
The hours that followed were full of drama and tragedy. Pliny decided against joining his uncle – the naval commander and writer Pliny the Elder – on his fateful rescue mission across the bay, only to find himself caught up in a mass evacuation as panicking crowds fled the burning mountain.
Travels Through Time. Tailored tours of the past. 
Travels Through Time is presented by bestselling historian, Peter Moore. In each episode we are joined by an expert guest, to journey to the time and place of their choice. Enjoy a ringside view of history as never before, with the action described by those who understand it best. Browse other episodes in this series here.
How to listen
You can listen to Travels Through Time here on our site in the player above, or on iTunes, Spotify, Podbean and Acast. There is also an RSS feed.
Further reading: related articles from the History Today archive
Before and After the Volcano Blows
Daisy Dunn
A new exhibition at the British Museum on the aftermath of the eruption of Vesuvius in AD 79 raises questions about the relationship between past and present, says Daisy Dunn.
Causes of the Early Persecutions
Bruce Eastwood
Popular suspicion rather than imperial policy, writes Bruce S. Eastwood, was responsible for making Christians the scapegoats for natural catastrophes in the Roman Empire.
The Small Gardens of Pompeii 
Wilhelmina Jashemski
Wilhelmina F. Jashemski visists the heart of the Pompeian house: the garden. While some gardens were splendid and spacious, others were crammed into minute courtyards "no larger than a professor's desk," but rich with flowers and enclosed by painted walls.