Travels Through Time #11 – Lucasta Miller, 1838
Letitia Landon – 'L.E.L.' – was one of the brightest stars of Georgian London's literary scene, but she remains an enigma whose life and death are open to interpretation.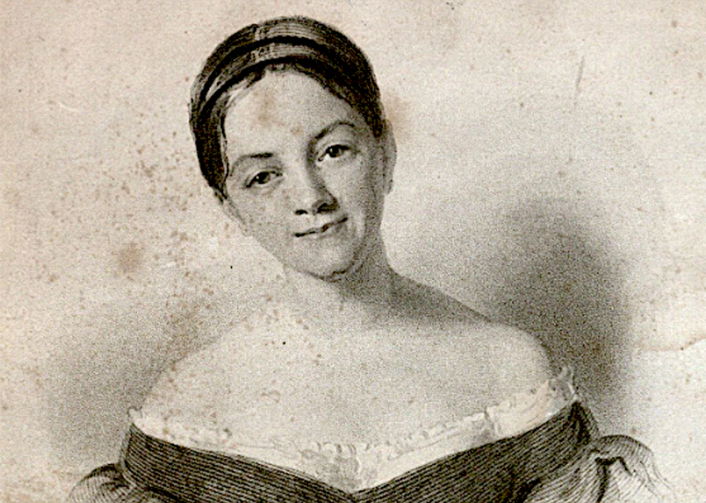 Although Letitia Landon's name is scarcely known outside specialist circles today, in the 1820s she was a true celebrity in the fast-evolving publishing world of literary monthlies and quarterlies. She thrived due to the quality of her verse and the mystery surrounding her persona: who was the writer behind the acronym? When L.E.L.'s identity was revealed in 1824 it turned out that she was – in her mother's words – 'a girl addicted to writing poetry.'
In this episode of Travels Through Time, literary historian and journalist Lucasta Miller tells us about L.E.L.'s life and takes us back to 1838 to witness her sad end. It's a story that ranges from the churches of London to the old slaving posts of West Africa. As with the literary career that had gone before it, the manner of L.E.L's death is open to interpretation.
Travels Through Time. Tailored tours of the past. 
Travels Through Time is presented by bestselling historian, Peter Moore. In each episode we are joined by an expert guest, to journey to the time and place of their choice. Enjoy a ringside view of history as never before, with the action described by those who understand it best. Browse other episodes in this series here.
How to listen
You can listen to Travels Through Time here on our site in the player above, or on iTunes, Spotify, Podbean and Acast. There is also an RSS feed.
Further reading: related articles from the History Today archive
Ghana's Slave Castles
Malcolm Billings
Ghana's slaving past, long regarded as too sensitive to even discuss, is now becoming a lively issue. A group of Ghanaians, led by lawyers and tribal chiefs, have convened an Africa-wide meeting to seek 'retribution and compensation for the crime of slavery'. 
The Response of the Slaves
Gad Heuman
Slavery would seem to be the epitome of domination by an all-powerful master over a passive, subservient dependent. But is this the whole picture?
The Nefarious Trade
Marika Sherwood
Britain's first Anti-Slavery Act was ineffective – British slave traders found ways around it to carry on their profitable activities, while British commerce flourished through the import of slave-grown cotton.