Topolski's Brush with the United Nations
Gallery owner John Martin appeals to readers to help identify figures in a significant work 'The Opening Session of the United Nations' by the twentieth-century artist Feliks Topolski.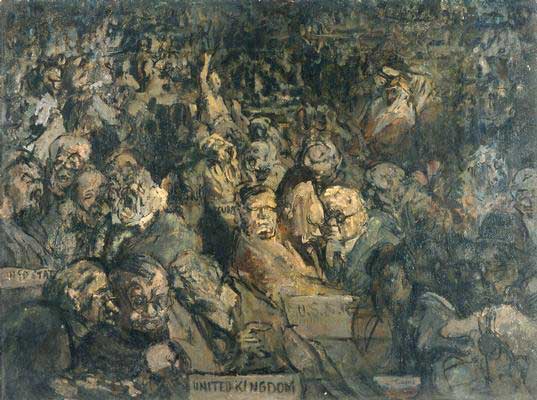 Feliks Topolski (1907-89) has a unique place in twentieth-century art. He was driven by a need to record the significant events of the moment and through a combination of charm, contacts and force of character somehow managed to make himself and his sketchpad witness to a succession of events that would make the most long-toothed foreign correspondent green with envy.

While most British war artists recorded the home front, the Polish-born Topolski made his way to Archangel with the first Arctic Convoy in November 1941. He sketched on the Russian front, crossed into China from Burma, drew the brothels of Calcutta, the 'behind-the-lines levity' of Cairo and was present for the liberation of Rome, entered Germany with the Allied troops, visited Belsen and attended the Nuremberg trials.