Topolski's Brush with the United Nations
Gallery owner John Martin appeals to readers to help identify figures in a significant work 'The Opening Session of the United Nations' by the twentieth-century artist Feliks Topolski.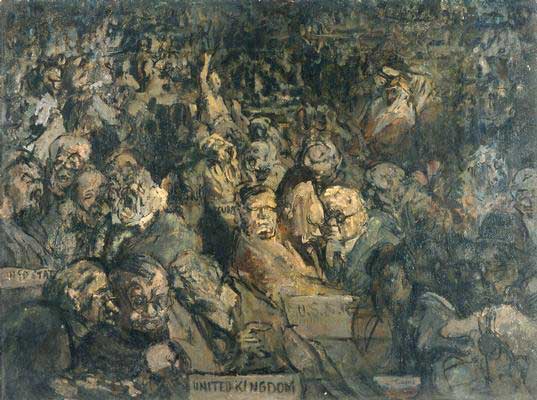 Feliks Topolski (1907-89) has a unique place in twentieth-century art. He was driven by a need to record the significant events of the moment and through a combination of charm, contacts and force of character somehow managed to make himself and his sketchpad witness to a succession of events that would make the most long-toothed foreign correspondent green with envy.

While most British war artists recorded the home front, the Polish-born Topolski made his way to Archangel with the first Arctic Convoy in November 1941. He sketched on the Russian front, crossed into China from Burma, drew the brothels of Calcutta, the 'behind-the-lines levity' of Cairo and was present for the liberation of Rome, entered Germany with the Allied troops, visited Belsen and attended the Nuremberg trials.
There had been no artist like Topolski before him, though his work is now largely forgotten. His sketches from the front, reproduced in newspapers and magazines, were enormously popular and, arguably, had more relevance at the time than the images left by Nash, Piper and Sutherland. In the late 1940s, he was invited to India by Pandit Nehru and witnessed the last days of the Raj, then went on to Burma and experienced the wars of liberation in Malaya and lndo-China.
The fact that Topolski's arrival coincided with the emergence of the frontline photo-journalist makes his achievement all the more extraordinary. His work was never going to compete with the photographers from Magnum, and even his monumental 'Memoir of the Century' (a 600-ft long  mural done in 1948 that covered three railway arches near Hungerford Bridge in London, incorporating many events Topolski had himself witnessed) will remain neglected by art historians. Yet his importance is sure to resurface at some point.