Neil Taylor looks for traces of history visible and invisible in the great square at the heart of Beijing.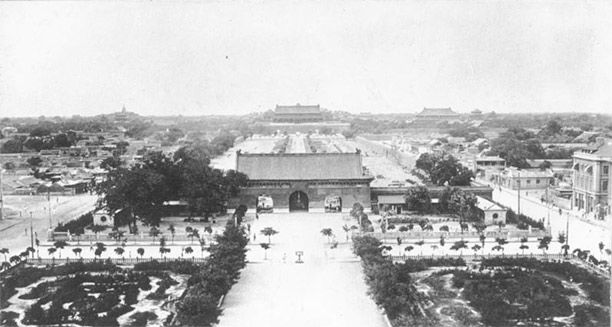 At the heart of modern Beijing is the huge empty space almost a kilometre long and half a kilometre wide known as Tiananmen Square, after the Tiananmen (Gate of Heavenly Peace) on its north side leading into the Forbidden City. An excellent way for the modern visitor to look at Chinese history is to wander around the square and consider what has happened there, what did not happen and what might have happened.
Tianamen itself was originally created in the fifteenth century. But it was only after the Boxer Rising at the end of the nineteenth century that the area in front of it was cleared and the square formed. In the middle stand the Monument to Revolutionary Heroes and the mausoleum of Mao Zedong.
Tiananmen is the public political face of China. The portrait of Chairman Mao that looks down from the Tiananmen Gate is replaced with a freshly painted copy each year. It shows a man with no wrinkles, and by implication, with no faults. He arouses curiosity but can easily be ignored. The same applies to the slogans on either side of him: 'Long Live the Chinese People's Republic' and 'Long Live the Great Unity of the World's Peoples'. Nothing has changed here in fifty years. Above the portraits and the slogans is the reviewing stand, which forms part of the gate out of the Forbidden City. In the 1960s and 1970s the newsreel line-ups here on May Day and October 1st (National Day) were some of the few occasions on which the Chinese leadership showed itself to the masses. Throngs of tourists have since replaced the Chinese leaders in the 'throne room': in a sign of the advent of capitalism to China, a visit here is sold as an optional extra to a tour of the Forbidden City.