Thailand's Modernising Monarchs
Tony Stockwell looks behind the exotic facade to examine the role of the kings of Siam and Thailand in modernising their country.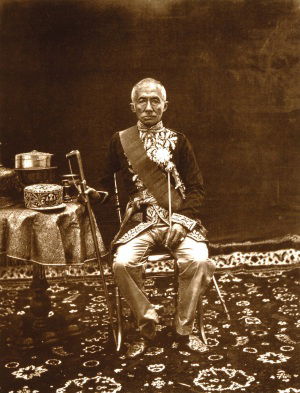 King Mongkut of Siam, Bangkok (European Dress), 1865 - 1866.
In the days before global tourism, Thailand was for many in the West a faraway country of which they knew little. Siam, to use the country's pre-war name, conjured up images of imperious cats, white elephants, conjoined twins and oriental despots. These images were reinforced by The King and I, the musical by Rodgers and Hammerstein, which was first performed in 1951, released as a film in 1956 and recently revived on stage. Their story was based on Margaret Landon's Anna and the King of Siam which in turn derived from The English Governess at the Siamese Court written by Anna Leonowens and published in Boston, Mass., in 1870. The widow of an officer in the Indian Army, Mrs Leonowens came to Bangkok in 1862 to take up the position of governess in the royal court. For five-and-a-half years she tutored the children of Rama IV, who was also known as Mongkut. The account of her experiences in Siam is a keenly observed, if somewhat sententious, description of life in the enclosed court. She portrays the king as an enlightened though capricious monarch and harps on their differences over the position of women and particularly her own role and status.