Vladimir Putin is by no means the first Russian leader to threaten his neighbours with force and annexations. Two centuries ago European statesmen faced a similar predicament. Only then it was Poland at stake, not Ukraine.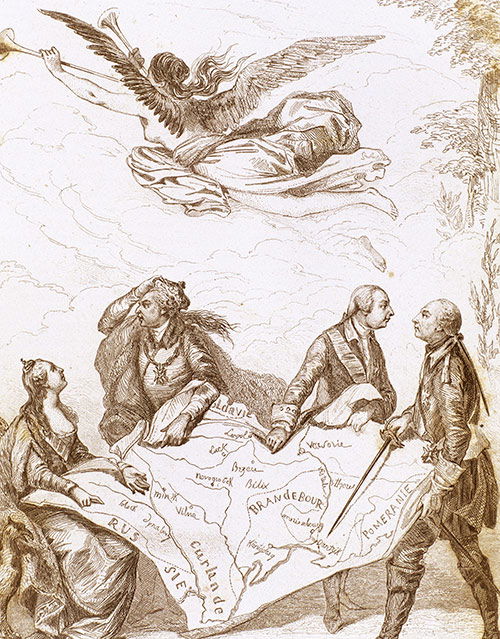 Allegory of the First Partition of Poland, 1772, after Gustave Moreau.
Since the 16th century Poland had been an elective monarchy. Its nobility enjoyed great license – their 'golden freedoms' – but Poland's elected monarchs failed to establish the golden pillars of ancien régime monarchy: a centralised bureaucracy, a standing army and increased taxes. Foreign powers even put forward their own candidates in Polish royal elections. In the election contest of 1764 Catherine the Great of Russia sponsored her former lover, Stanislaus Poniatowski. Russian troops, invited by the wealthy Czartoryski family, kept in the distance but close enough to influence Polish electors.  After his elevation to the Crown, Poniatowski refused to perform the Tsarina's bidding. At the same time he proved unable to push much needed reforms through the Polish parliament, the Sejm. A group of dissatisfied nobles rebelled and even attempted to kidnap the king to remove him from Russian influence. Russian forces then intervened. In 1771 Catherine reached an agreement with Frederick the Great of Prussia and Maria Theresa of Austria: each would take a slice of Poland, thereby preserving the 'balance of power' between themselves.