The 'Divine Sarah' had her right leg amputated on February 22nd, 1915.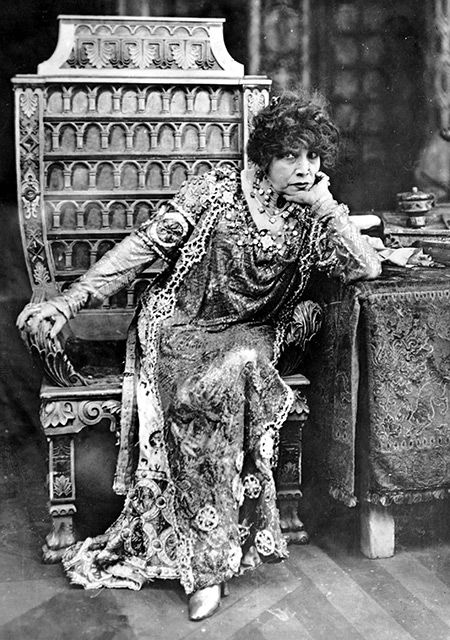 The great French actress was 70 and her right knee was causing her agonising pain. She had injured her leg when performing Victorien Sardou's play Tosca (on which Puccini's opera was based), in which she was the heroine who finally hurls herself off a castle wall to kill herself in despair. In 1914 she tried wearing a cast and in January 1915 she rented a villa at Andernos, near Bordeaux, hoping that a period of complete immobilisation would help, but it did not.
The 'Divine Sarah' was nothing if not strong minded and she decided she would be better off without the leg altogether. She wrote to one of her lovers, the surgeon Samuel Pozzi, telling him to cut it off above the knee. 'Why condemn me to constant suffering?', she asked. If he did not help her, she threatened to shoot herself in the leg and then it would have to be cut off. 'I want to live what life remains to me,' she wrote, 'or die at once.' Pozzi authorised a young surgeon called Maurice Denucé to carry out the operation in Bordeaux. He used ether as an anaesthetic and telegraphed Pozzi that day to say that there had been no problems, the minimum ether had been needed and all was well.
The unstoppable Sarah tried several wooden legs, but irritably threw them away and bought a sedan chair to be carried about in. Before the year was out she was on stage in Paris again. She entertained French soldiers at the front, made numerous theatre appearances and a final tour of the US before she died in Paris aged 78 in 1923 and was buried in the Père Lachaise cemetery.
Her amputated leg was supposedly rediscovered late in 2008, preserved in formalin at Bordeaux's Faculty of Medicine and found in a storeroom with other grisly curiosities. Experts, however, said it was a left leg that had been amputated below the knee, so not in any sense the right one.