Discovered during the French occupation but seized by the victorious British after six months of desert battle, the Rosetta Stone symbolized the struggle for cultural supremacy between two great rivals.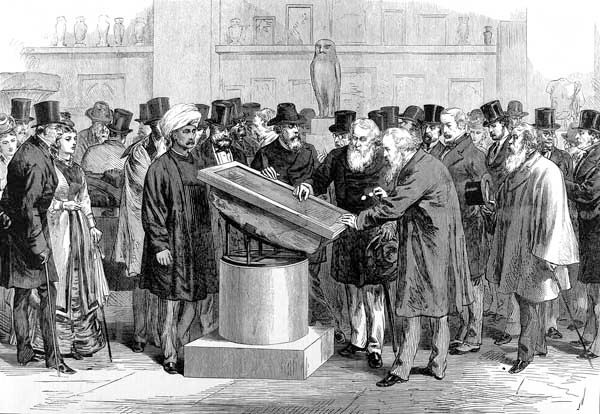 In February 1802, the captured French frigate HMS L'Egyptienne sailed into Portsmouth harbour. On board was Colonel Tomkyns Hilgrove Turner (1766-1843) and in his charge, so he claimed, a relic that had set the academic world ablaze: the Rosetta Stone – the possible key to the mysteries of hieroglyphs and the lost treasures of Ancient Egypt. In Turner's own words it was 'a proud trophy of the arms of Britain... honourably acquired by the fortune of war.'  How Britain came to possess the Stone remains something of a mystery. In 1810 Turner wrote an account to the Society of Antiquaries of London of how he had personally seized the piece from the hands of the French. He mentions no witnesses to his actions.
However, the renowned traveller and scholar, Edward Daniel Clarke (1769-1822), told a very different story in his memoirs, published shortly after Turner's statement, apparently in direct response to his claims. At the time of the Stone's recovery Clarke had been accompanied by two respected academic companions, one the personal secretary to the famed collector Lord Elgin. After the French surrender at Alexandria in 1801, they had been well-received by the French scholars into whose care and protection the Stone had originally fallen. According to Clarke's memoirs, the Stone was not captured, but handed over secretively in the quiet backstreets of Alexandria by these same scholars to Clarke and his companions. Turner had not been present.