'Tudor Liveliness' by Christina J. Faraday review
Art reveals the past – if you know how to look.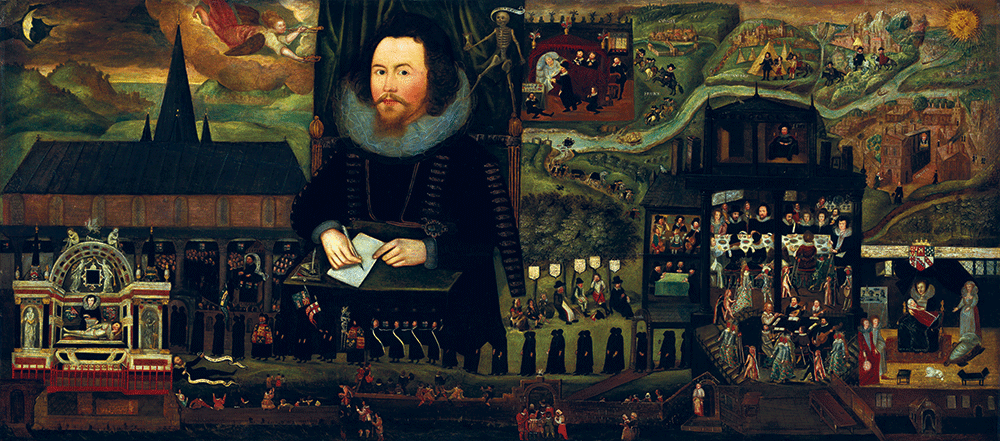 Art reveals the past – if you know how to look. Not just through the record of a lost landscape, or the personality inherent in a portrait, but in its structure, ingredients, technique and in its choice of subject matter and style. Yet the art of the past is often viewed through a subjective modern lens. We struggle to look and understand because of our preconceptions about what art should be and our prejudices about the period that produced it. With art, context, purpose and language are key.
Christina J. Faraday's book is as much about language and terminology as it is about art. Tudor Liveliness sets out in pursuit of how late Tudor and Jacobean England produced and viewed artworks, with the aim of constructing an appropriate vocabulary for describing art of the period. Faraday guides us through a confusing lexicon and corrects our misuse of seemingly familiar terms such as 'perspective' (more about achieving three-dimensionality through shading and colour than achieving realistic pictorial space) and 'counterfeit' (to imitate, not to deceive). More ambitiously, the book challenges our assumption that much of the art produced in England after the Reformation was backward-looking, isolated from the great achievements of the European Renaissance, and necessarily iconophobic, fearful of representing the real world lest this stir inappropriate emotions and encourage idolatry. How can this be the case, Faraday questions, when so much art of the later 1500s and early 1600s was described at the time as 'lively'?
Tudor Liveliness takes this single word – 'liveliness' – and subjects it to a thorough interrogation, stripping it down to its etymological origins, tracing its popularity and usages, and defining its manifold meanings. Essentially, 'liveliness' in art could mean three things in post-Reformation England: a lifelike vividness; a forcefulness, or potency; and a delightfulness of execution that brings immersive pleasure to its audience.
These are all principles of rhetorical theory, as it was understood and employed at the time, and the links between rhetoric and art are explored in Faraday's book. A good artist, just like a decent rhetorician, aimed to teach, persuade and delight through a range of stylistic approaches with inaccessible Greek names like enargeia (engaging all the senses through descriptive vividness), but 'liveliness' turns out to be a great shorthand descriptor for the overriding ambition of both.
In portraiture, a 'lively' portrait did not mean one that necessarily engaged with the precise requirements of perspective, but, through verisimilitude with its subject, evoked a real engagement with their presence, enhanced through the addition of inspirational imprese (emblems or mottoes), anecdotal detail and decorative backdrops. Miniature portraits were especially 'lively' when they inspired emotional connections: worn on ribbons around the neck, to be taken out and contemplated privately, not only were they vivid reminders of an absent loved one, but also conveyers of secret messages. Contextualising the purpose and character of art in this way means we can re-evaluate the ambitions and achievements of artists like Nicholas Hilliard, often criticised for his arcane artificiality, as if the Renaissance quest for naturalism was the only measure of artistic value that mattered.
In Faraday's book we discover how illustrators embraced 'liveliness' when they created concise diagrams, clear in their communicative purpose, and – in the case, for example, of anatomical pop-up books – designed to encourage kinaesthetic learning. We hear how travelling artists 'lively set forth' their interactions with distant cultures through drawings that aspired to make the reader experience their adventure first-hand. And we learn how 'liveliness' in the home or schoolroom was achieved through images of Christian moral instruction reimagined in contemporary, recognisable settings and costumes, and the personification of inanimate objects through the addition of simple first-person 'poesies'. As one mid-17th-century chamber pot succinctly puts it: 'Earth I am it is most true, disdain me not for so are you.'
Quite how much of this was apparent to a jobbing artist, book illustrator or chamber-pot dauber is not certain. Not everyone read Quintilian in the 1600s, and it is difficult to find evidence for a 'dramatic democratisation of the art of rhetoric', the instruction of which, Faraday admits, was mostly limited to men in the patron class and a few exceptional women. And, of course, just because a subject was taught, does not mean that it was understood or accepted, while art criticism that avowed and promoted rhetorical principles is 'thin on the ground'. Instead, the author argues that an awareness of the general principles and effects of rhetorical devices shaped 'unconscious habits of thought'.
Nonetheless, through the comprehensive cross-examination of a single word, the culture and personality of the past are brought into sharper focus. We can look at the alien peculiarity of a painting as complex and multi-layered as the 'Henry Unton Memorial Portrait' – produced by an unknown artist around 1596 – and recover 'something of its original power'. The achievement of this wonderfully illustrated and bountifully referenced book is to make us question how we should look at post-Reformation art, and to find our own delight in its eccentricities and rhetorical flair.
Tudor Liveliness: Vivid Art in Post-Reformation England 
Christina J. Faraday
Yale University Press, 208pp, £45
Buy from bookshop.org (affiliate link)
Brett Dolman is Curator (Collections) at Hampton Court Palace.